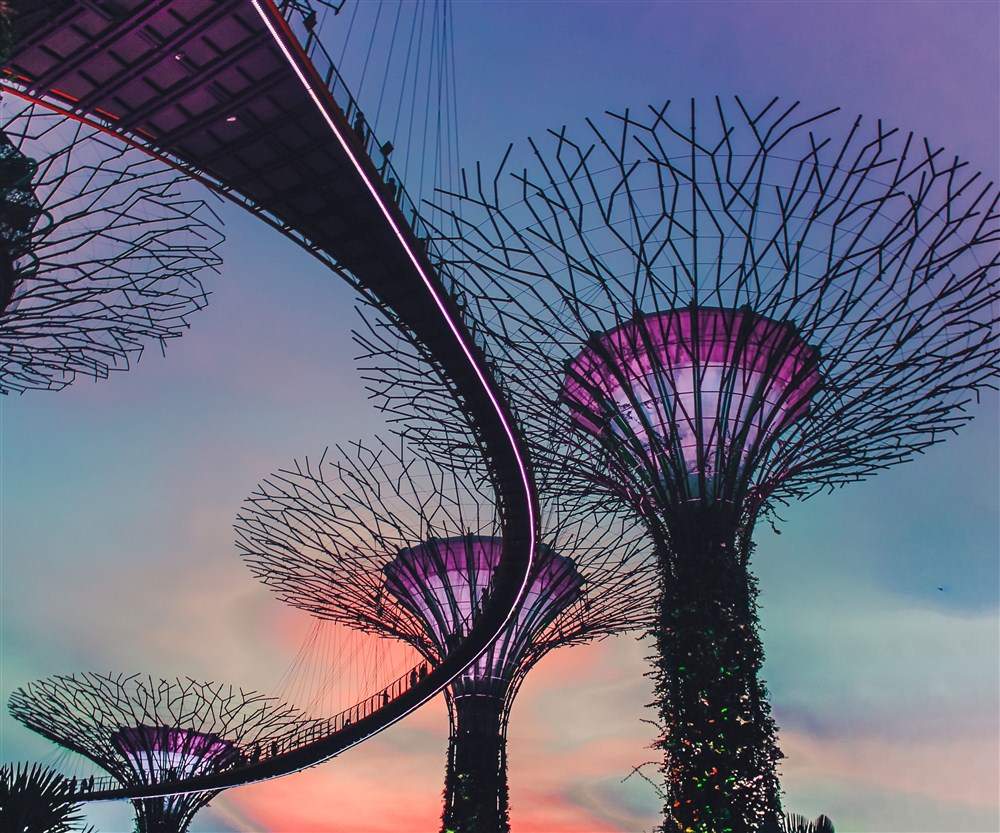 Overview of Singapore Tour Packages
Singapore is situated near the equator and has a typically tropical climate, with abundant rainfall, high and uniform temperatures, and high humidity all year round. Many of its climate variables, such as temperature and relative humidity, do not show large month-to-month variation. However, many variables exhibit prominent diurnal (or daily) variations from hour to hour, indicating the strong influence that solar heating has on the local climate.
Singapore, officially the Republic of Singapore, is a sovereign island city-state in maritime Southeast Asia. The country is home to 5.7 million residents, 61% (3.4 million) of whom are Singaporean citizens. There are four official languages of Singapore: English, Malay, Chinese, and Tamil; with English being the lingua franca. This reflects in its rich cultural diversity and extensive ethnic cuisine and major festivals. Multiracialism is enshrined in the constitution and continues to shape national policies in education, housing, and politics.
Tourism is a major industry and contributor to the Singaporean economy. 
| Packages | Price | Duration | stay | |
| --- | --- | --- | --- | --- |
| Singapore Tour Package from Kolkata | | | | |
| Singapore Family Tour Packages | | | | |
| Singapore Deluxe Tour Package | | | | |
Singapore Tour Package from Kolkata
Singapore Family Tour Packages
Singapore Deluxe Tour Package
Climate Of Singapore Tour Packages
Singapore's climate is characterized by two monsoon seasons separated by inter-monsoonal periods.  The Northeast Monsoon occurs from December to early March and the Southwest Monsoon from June to September. The major weather systems affecting Singapore that can lead to heavy rainfall are Monsoon surges, or strong wind episodes in the Northeast Monsoon flow bringing about major rainfall events;
Sumatra squalls, an organized line of thunderstorms traveling eastward across Singapore, having developed over the island of Sumatra or Straits of Malacca west of us. Travotic holidays is the best travel agency for Kolkata to Singapore tours.                
Currency
The currency used in Singapore is the Singapore Dollar (SGD)
Time Zone
Time zone in Singapore (GMT+8)
Religion
The most followed religion in the country is Buddhism, followed by Islam, Christianity, Taoism, Hinduism, and others. Based on the 2000 census there are 42.5% of Singaporean who are considered to be Buddhist; 14.9 are Islam, 14.8 of Singaporeans do not have a religious affiliation; 14.6 are Christians; 8.5 practice Taoism; 4% are considered Hindu; and the remainders are belonging to other religious groups (Jews, the Jains, the Sikhs, and the Zoroastrians).
Best Time To Visit Singapore
Although Singapore is a year-round destination, the best time to visit Singapore is from December to June. The months of February to April falls within Singapore's dry season and is typically when the country has the least amount of rain, the lowest humidity, and the most sunshine
TEMPERATURE & RAINFALL AROUND THE YEAR
There is 1 way to get from India to Singapore by Flight
From India, it takes approx. 4/5 hrs to reach Singapore City – Airport Changi Airport the world's best airport and destination in itself
Available Train details for Ajodhya Pahar Package tour:

Rupasi Bangla Exp [12883]

Depart 06:25 | Arrival 11:50

Depart 08:30 | Arrival 14:15
Attraction Of Singapore Tour Packages
Place of Interest in Singapore / Singapore tourist spot
the world's first nocturnal wildlife park, is a 13-time winner of the Best Attraction category awarded by the Singapore Tourism Board. This internationally acclaimed leisure attraction embodies innovation and creativity in products and services, and service quality, thus attracting approximately 1.3 million visitors annually. Close to 900 animals from approximately 100 species (of which almost 41 percent are threatened) inhabit the 35-hectare park.
Asia's largest bird park, offering a 20.2-hectare hillside haven for close to 3,500 birds across 400 species, of which 20 percent are threatened. The bird park is famed for its large and immersive walk-in aviaries such as Lory Loft and the recently revamped Waterfall Aviary. Other unique exhibits include Penguin Coast and Pelican Cove. 
Sentosa Development Corporation (SDC) has unveiled exciting possibilities for Sentosa and Pulau Brani as part of a landmark Master Plan to redevelop the two islands into a game-changing leisure and tourism destination, leveraging their unique island charm, geographical qualities, as well as proximity to the city.
Located 57 story's up from the heart of the Marina Bay area, the Sands Sky Park Observation Deck boasts scenic views of the panoramic vistas of Marina Bay and Singapore's world-class cityscape.
 The Gardens is led by a multidisciplinary team of professionals who have been involved in the greening of Singapore and had worked alongside international and local experts to develop the Gardens. It has an in-house team of skilled landscape designers, horticulturists, arborists, engineers, plant health, garden and turf management experts, as well as plant research and orchid breeding professionals, who leverage the extensive global network of plant sources cultivated during the development days, to continuously curate and grow the Gardens.
Singapore's only movie-theme park features 24 rides and attractions, including a pair of dueling coasters that brush past one another in several near misses in their aerial combat. Thrill-seekers can choose between a coaster where they are seated or the other where riders are suspended. Exciting loops, sudden turns, breathtaking drops, and thrilling near-collisions will make you scream your heart out.
 Singapore Flyer is Asia's Largest Giant Observation Wheel. Standing at a stunning 165m from the ground, the Flyer offers you breathtaking, panoramic views of Marina Bay and beyond. There's also a range of shops, restaurants, and facilities.
Contact Travotic Holidays for Singapore tour package from Kolkata, Singapore Family tour, or Singapore Group Tour.
Singapore Tour Package from Kolkata
Singapore Family Tour Packages
Singapore Deluxe Tour Package
| Packages | Price | Duration | stay | |
| --- | --- | --- | --- | --- |
| Singapore Tour Package from Kolkata | | | | |
| Singapore Family Tour Packages | | | | |
| Singapore Deluxe Tour Package | | | | |
WHERE TO STAY AT YOUR 'AJODHYA PAHAR BARANTI TOUR PACKAGE FROM KOLKATA
Aqueen Lavender / Similar
TENTATIVE  FOOD DETAILS OF AJODHYA PAHAR PACKAGE TOUR: [Guest need to be paid direct basis]
| DAY | BREAKFAST | LUNCH | DINNER |
| --- | --- | --- | --- |
| | | Rice, Aloo Bhaji, Dal, Fish curry, Chatni, Papad | Rice, Aloo Bhaji, Dal, Fish curry, Chatni, Papad |
| | Puri, Sabji, Tea / Coffee | Rice, Chips, Dal, Fish portion, Chatni, Papad | Rice / Roti, Dal, Mix Veg /Similar, Chicken Masala |
| | Bread, Omelet, Tea / Coffee | | |
Amazing Facts Of Singapore Tour Packages
10 Most Amazing Facts of Singapore
It's a city of not just One Island, but 64
It's home to the world's first-night zoo
It's a city of (man-made) waterfalls
Local speaks Singlish, not just English
Singapore pioneered the first F1 night race
It's home to a UNESCO World Heritage Site – and some unique "VIPs"
There's always something to celebrate in Singapore 
The Lion City may actually have been inspired by a tiger
Must Maintain In  Singapore Tour Package :
Carry your belongings, like Passport Copy & Foreign Currency with you all the time
After check-in – original passport you can keep in the locker of the Hotel room or keep inside your luggage under lock & key or you can carry it with you (but on your own responsibility)
Maintain the transfers pick times, if you missed out no refund/reimbursement is possible, you need to reach the Tour Stop / Destination on your own and need to report to the local operation representative to confirm the return pick-up
On arrival, you will get a packet with all the original vouchers & entry tickets for your tour (maybe in ticket form / in voucher format – need to redeem at the counter). Please check all very carefully, if not anything missed out. If so, please report it immediately.
In-Room, if you use any product from min freeze, all will be chargeable, and need to pay to the hotel directly.
At the time of check out if the hotel charges for any damage that needs to settle across. In some peak season, some of the hotels charge a security deposit for this reason, that you need to pay, but rest assured the same will be refunded at the time of Check out without delay if there is no harm.
Singapore Travel Tips:
For convenience make advance reservations of hotels, transport, and local sightseeing of the city and journey on Luxury Trains.
Carrying an authorized map of the State and City to which you are traveling.
Carry woolen clothes in winter and walking shoes for all season.
Carrying all essential medicines as advised by your doctor.
Travel insurance can protect you from any unseen hazards.
Avoid taking the services of unknown and unauthorized guides/touts.
Avoid heavy baggage and prefer to use lightweight bags with wheels to avoid any inconvenience.
Inform your allergies and food habits in the hotel or restaurant before you order meals or beverages.
Avoid carrying expensive items like jewelry, gold, and valuables of high worth.
Make purchases from authorized shops and take proper vouchers of purchases made with telephone number and identification of salesmen or owner of the shop.
Carrying safe drinking water and dry eatables while traveling.
For emergency please contact our 24 X 07 Customer Support Number -8585-86-5050
Always carry a photocopy of your travel documents i.e. Passport, Visa, or Travel Pass, and inform the police immediately of the loss of any of such documents.
Give a proper wake-up call at hotel reception as and when you have to catch the early morning or late night connecting Bus or Train.
Avoid getting extra familiar with hotel staff or any other guests during your stay and in case of any abnormal or indecent behavior, report to Hotel Manager or THPL Customer Support Mobile number
Avoid booking tickets or hotel bookings through unauthorized agents.
In the event of cancellation of tour/travel services due to any avoidable/unavoidable reason/s, we must be notified of the same in writing. Cancellation charges will be effective from the date we receive advice in writing, and cancellation charges would be as follows:
60 days before arrival: 10% of the Tour/service cost
45 days before arrival: 20% of the Tour/service cost
15 days before arrival: 25% of the Tour/service cost
10 days before arrival: 50% of the Tour/service cost
07 days before arrival: Non Refundable
NOTE: In the case of Special Trains Journeys and peak season hotel bookings a separate cancellation policy is applicable (which can be advised as and when required).
SOME CANCELLATION AND REFUND POLICIES ARE OUT OF OUR TENDER:
Refund for hotel payment will follow the hotel's cancellation policy
Train tickets cancellations will follow the Railway's policy
Flight tickets cancellations will follow the airline's company policy
In case you cancel the trip after commencement, refund would be restricted to a limited amount only which too would depend on the amount that we would be able to recover from the hoteliers/ contractors we patronize. For unused hotel accommodation, chartered transportation & missed meals, etc. we do not bear any responsibility to refund.
OUR LIABILITIES & LIMITATIONS:
Please note that after the finalization of the Tour/ service Cost, if there are any Hike in entrance fees of monuments/museums, Taxes, fuel cost, or guide charges – the same would be charged as extra.
As per the Government directive, you are requested to produce your photo identity document such as Driving License/Voter ID Card/Passport/Ration Card at the point of check-in at the hotel. We appreciate your cooperation.
In case of the non-availability of requested hotels/hotels, we will provide accommodation in a similar category of hotel/hotels.
If there is any unavoidable incident occur during the tour, Travotic will not be labile for any responsibility
There will be no refund for any No Show / Unutilized services.
The itinerary may be modifying based on various factors like maintenance of monuments/museums/major like spots conventions, religious festivals, etc.
Itinerary timings on the tour are approximate and may be subject to change.
Transfers and sightseeing on a SIC basis mean transport through a comfortable coach/bus/van depending on the total number of passengers traveling with you on that same tour. Please note that Travotic Holidays will be putting together all the passengers arriving around the same time and dropping them at their respective hotels. You may talk to our holiday experts about private transfers/ transport facilities, which will be made available at an additional cost.
The customer needs to avail of the SIC from the scheduled pick-up point at the scheduled time. Travotic Holidays are not responsible if the pick-up is missed due to the customer's delay.
All personal extras such as laundry, room service, alcohol, minibar, telephone bills, pre-paid or post-paid SIM cards, etc. will be on a direct payment basis by the traveler to the service provider & Travotic Holidays will not be liable for the same at any point of time.
For all the services contracted, a 25% advance payment should be made to hold the booking, on a confirmed basis & for flight ticket booking need full actual fare. The balance amounts need to be paid 10days before the commencement of the services. Management personnel holds the right to decide upon the amount to be paid as advance payment, based on the nature of the service & the time left for the commencement of the service.
Apart from the above in some cases like Special Train Journeys, hotels, or resorts bookings during the peak season (like X-Mas, New Year, Puja, Diwali), a 50% advance payment should be made to hold the booking and 20days before full payment is required to be paid.
Note: Above mentioned payment policy may change during peak season.
Bank Details

Travotic Hospitality Pvt. Ltd.

81A, Ground Floor, Sikdar Bagan Street, Hati Bagan, Kolkata, West Bengal 700004
Bank Details

Travotic Hospitality Pvt. Ltd.

Ground Floor, Mukti Chambers, 4, Clive Row, B.B.D. Bagh, Kolkata, West Bengal 700001
Frequently Asked Questions
How to book a tour on the site?
Visit the website and enter the activity you are looking for in the search bar. After choosing the activity that you plan to take up you will drop your details with contact no, email Id, etc at inquiry form or you can drop a mail to enquiry@travoticholidays.com.
PAYMENT REFUND & CANCELLATION
What are the cancellation policies at TRAVOTIC?
We request you to check the cancellation policy on tour package page on our website. To proceed with cancellations you may go ahead and drop a mail to ...... with your ref ID...
HOW I MAKE PAYMENT AFTER CONFIRM A PACKAGE?
Travotic Holidays cater to its clients, one of finest travel affairs that you can find in Kolkata. Our clients are offered extremely well organized and properly executed tours along with the most competitive price. We are pledged upon providing our travelers with an incredible experience each and every time and we do it by following these core values.
Please share your details and our Travel expert will get in touch  shortly