Andaman and Nicobar Tour Packages
Book Andaman and Nicobar Islands tour packages at the best price with Travotic Holidays | For Exotic Andaman travel and tourism call ☏ +91 8585-86-5050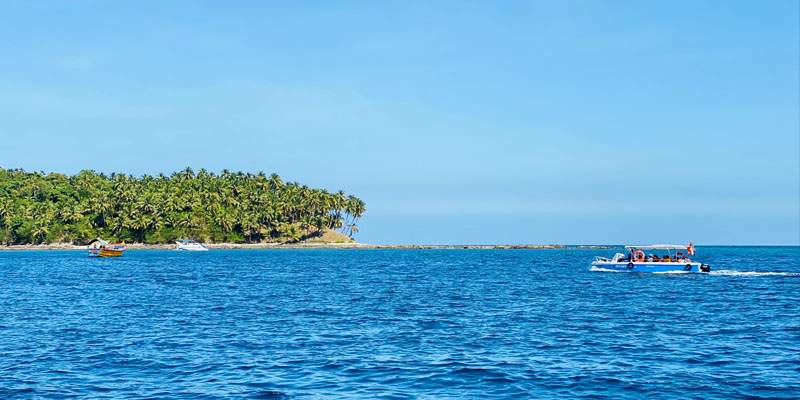 Overview of Andaman and Nicobar Tour Packages
The best oceanside area or objective in the archipelago domain of India is Andaman, a Union region of India involving 572 islands of which 37 are occupied, are a gathering of islands at the point of the Bay of Bengal and the Andaman Sea. This spot is renowned for its cornucopia of tropical objections and vacationer exercises. Andaman and Nicobar Island are renowned for oceanside holiday spots and experience trips, from untamed life visits to water sports exercises. These around 300 islands are popular for their palm-lined, seashores of white sand, mangroves, and tropical jungles. Coral reefs supporting marine life, for example, sharks and beams make for famous jumping and swimming locales. Native Andaman Islanders possess the more distant islands, a large number of which are forbidden to guests. The absolute region is 8,250 km.
In spite of the appalling standing during the pilgrim time frame, the Andaman and Nicobar Islands this day are quite possibly the most sought-after traveler objections of Indium. The islands are well known for their quiet, white sandy seashores described by shining blue waters.
Assuming you are looking for Andaman visit bundles or a special first-night visit bundle from Kolkata then you are on the right page, look no further, due to Travotic Holidays Andaman and Nicobar Tours and Travel bundles are the ideal decision for you. Travotic Holidays offer your a wide scope of customization Andaman visit bundles to suit each sort of explorer. On the off chance that you are searching for the best Andaman visit bundles or the best visit administrator for the Andaman family visit, stop further looking in light of the fact that Travotic Holidays' Andaman bundle visit experts are prepared to give all the data about your impending Andaman Holiday Packages at the best rate as per your spending plan. Andaman and Nicobar Island are likewise renowned for Honeymoon Couples. Spend your essential second on the blue seashores with the best Andaman bundle visit.
| Packages | Price | DURATION | NIGHT STAY | |
| --- | --- | --- | --- | --- |
| Andaman Budget Tour Package | | | Port Blair (03 Nights) Havelock (02 Nights) | |
| Andaman Tour from Kolkata | | | Port Blair (3Nights) Havelock (2Nights) Neil (1Night) | |
| | | | Port Blair (4 Nights) Havelock (2 Nights) | |
| Andaman Honeymoon Package | | | Port Blair (03 Nights) + Havelock Island (01 Night) | |
Best Time to Visit Andaman and Nicobar Tour
CLIMATE MATTERS FOR ANDAMAN TOUR PACKAGES:
The Andaman Islands enjoy a typical tropical climate all through the year. With an average temperature of around 23°C (minimum) and not exceeding 30°C (maximum), Andaman Islands are hot and humid generally.
How to Reach Andaman & Nicobar Islands from India:
TEMPERATURE & RAINFALL AROUND THE YEAR

JANUARY TO MAY EVERY YEAR

JUNE TO DECEMBER EVERY YEAR
As Andaman and Nicobar Islands are one of the seven association domains of India, Indian explorers don't have to convey any kind of authorization to go here. However, outsiders need to acquire these authorizations and convey the documental evidence while venturing out to Andaman and Nicobar Island. Being an Island-based objective Andaman Nicobar is associated with India through ocean and air courses as it were. The main air terminal is named Veer Savarkar Airport situated in Port Blair and non-stop flights are accessible from Kolkata, Chennai, and Vishakhapatnam. From Delhi, Mumbai, Bangalore, Hyderabad, and all different urban areas corresponding flights are accessible to Veer Savarkar Airport. From the air terminal of Andaman Nicobar Island to Port Blair distance is 31 km and via vehicle, the driving distance is around 40 minutes.
Flights are the quickest and most helpful method of movement for the Andaman visit bundle. The non-stop flights are available to Andaman Nicobar Island from Kolkata, Delhi, Chennai, Bangalore, Vizag, and Hyderabad as of June 2021. It will take between 2 to 3.5 hours in light of your takeoff areas of India.
There are three or four sailings from Kolkata, Chennai to Port Blair, and Port Blair to Chennai, Kolkata. There is one cruising for Visakhapatnam. The vitally port boat administrations from port urban communities of Kolkata, Chennai, and Vishakhapatnam, sail to Port Blair. The cruising plans are reported one month in advance. The journey requires around 3-4 days (50-60 hours in a perfect world) and the boat typically compartments at Port Blair for around two to four days. Assuming you might want to know more insights regarding the cruising, you can go through the Andaman and Nicobar government site – https://www.andaman.gov.in/
There are no possiability to travel Andaman Nicobar Island by Train.
Available Train details for Ajodhya Pahar Package tour:

Rupasi Bangla Exp [12883]

Depart 06:25 | Arrival 11:50

Depart 08:30 | Arrival 14:15
Attraction of Andaman and Nicobar Tour Packages
Places to visit in Andaman
Port Blair, Havelock Island, Neil Island, Baratang Island, Elephanta Beach, Radhanagar Beach, Diglipur, Chidiya Tapu, Barren Island, Cellular Jail, Ross Island, Bharatpur Beach, Sitapur Beach, Jolly Buoy Island, Kala Patthar and a lot more as they offer the excellent nightfalls, brutal wild creatures, transient birds which would definitely be loosening up your see any problems and your eyes.
A few different spots incorporate Mount Harriet, and Madhuban, the popular Cellular Jail, for the intriguing and unmistakable greenery, Neil Island, Ross Island, Viper Island comprising of old remnants, and Barren island a functioning fountain of liquid magma, and the rundown goes on. When you visit the Andaman and Nicobar islands, they will certainly appeal to you with their appeal.
PORT BLAIR TOUR AND TRAVEL ATTRACTIONS:
PORT BLAIR: Nestled away from Mainland India, Port Blair is the capital city of the Andaman and Nicobar Islands. Port Blair is additionally the central command of South Andaman and is a significant Indian maritime base. It is notable for its INS Jarawa of the Indian Navy, the first tri-order of the military of India. The city is additionally home to the noteworthy Cellular Jail, and huge loads of curious islands close by like Corbyn's Cove, Neil Island, Ross Island, Rutland Island, Viper Island, Jolly Buoy Island, and Barren Island (known for being the main dynamic spring of gushing lava on the Indian Subcontinent).
PLACES TO VISIT IN PORT BLAIR:
Cellular Jail
Corbyn's Cove beach
North Bay island
Samudrika Naval Marine Museum
Anthropological Museum
Jolly Buoy Island
Ross Island
Rutland Island
Viper Island
Wandoor Beach
Mahatma Gandhi Marine National Park
Sandbar Beach (A long stretch of Sand that connects Ross & Smith Island)
Chidiya Tapu
Chatham Saw Mill
Karmatang Beach
Rubber Plantation
Red Skin Island Beach
Rutland Island (South Andaman)
Lalaji Bay Beach
Saddle Peak Nationa Park
Parrot Island
Long Island
Barren Island Volcano
Little Andaman
Cinque Island
Sri Vetrimalai Murugan Temple
Forest Museum
Diglipur Island
Ross and Smith Island (North Andaman Island)
Rangat
Rajiv Gandhi Water Sports Complex
HAVELOCK ISLAND TOUR AND TRAVEL ATTRACTIONS:
HAVELOCK: Havelock Island is one of the largest and most popular isles in the Andaman and Nicobar group of islands. Spread over a massive area of 113.93 square kilometers, Havelock Island is situated 57 km northeast of the capital city Port Blair.
PLACES TO VISIT IN HAVELOCK ISLAND:
Radhanagar Beach
Elephant Beach
Kalapathar Beach
Vijaynagar Beach
Laxmanpur Beach 2
Scuba Diving Andaman
Snorkeling in Andaman
NEIL ISLAND TOUR AND TRAVEL ATTRACTIONS:
NEIL: Neill Island is a piece of the South Andaman Administrative District and has a place with Ritchie's Archipelago in the Bay of Bengal. A piece of the huge sea isolates it from Ross Island and Havelock Island, Tourists visiting Havelock frequently make a day-long outing to Neill Island. Maybe the most charming element of this island is its three sandy seashores, specifically Bharatpur Beach, Sitapur Beach, and Lakshmanpur Beach. The woods cover has decreased impressively because of rice development, however, a segment in the northwest of the island is being saved effectively.
PLACES TO VISIT IN NEIL ISLAND:
Bharatpur Beach
Natural Bridge.
Sitapur Beach
Laxmanpur Beach
BARATANG ISLAND TOUR AND TRAVEL ATTRACTIONS:
BARATANG: Baratang Island, otherwise called Ranchiwalas Island, is a lovely little island in the North and Middle Andaman Administrative area and is arranged around 100 kilometers from the capital city of Port Blair by street. The island is notable for its mangroves, mud volcanoes (the only ones in India), and limestone caves. The Andaman and Nicobar islands are home to one as well as TWO VOLCANOES - Barren Island and Narcondam Island likewise the only ones in India which makes it significant to think about there are somewhere around 500 volcanoes on the planet. Be that as it may, you might have to take authorization from the Forest Department at Baratang to investigate these caverns. Dissimilar to Havelock Island, Baratang Island isn't as produced for metropolitan the travel industry and generally fills in as a center point for regular touring. You can arrive at Baratang island through the public authority ship administration between Port Blair and the Phoenix Bay Jetty.
PLACES TO VISIT IN BARATANG ISLAND
Lime Stone Cave
Mud Volcano
Barren Island Volcano
Mangrove Creeks
Fairs & Festivals You Can See At Andaman & Nicobar Islands with the Best Andaman Tour Packages:
Andaman and Nicobar Island is a place where people of diverse cultures, religions, and castes reside, hence, every year it witnesses grand celebrations of a wide range of festivals. All Andaman, as well as Nicobar Islands Festivals, are celebrated in the mainland.
Here are the fair and festivals of Andaman & Nicobar Island:
KALI POOJA: Kali Pooja is commended by adoring Goddess Maa Kali. Goddess Kali is considered the Goddess of demolishing evil. She is revered with incredible devotion in the period of Aswin (October-November) consistently. During Kali Puja, the Kali sanctuary at Premnagar is the fundamental fascination, which is wonderfully decorated with shaded lights. Local people and guests from various districts visit the sanctuary to go to the poojas and Artis. They love the Ma Kali symbols put inside the sanctuary with sheer devotion.
Aside from the Kali Temple, different spots with Kali's golden calves additionally witness a gigantic group that visits to offer their requests to Maa Kali. Post Kali Pooja, a parade happens by which the icons are completed for drenching in the water.
DURGA POOJA: Maa Durga is generally celebrated in Andaman. It is one of the fundamental celebrations of the Hindus. It is likewise celebrated with the name "Navratri" for nine days during the month Sept-Oct.
Bengalis in the district are colossal enthusiasts of Maa Durga and make her deities with earth to venerate something very similar. The areas get enhanced with lights and Durga pooja pandals are set in various locales with a large number of fans visiting to offer their requests.
GANESH POOJA: according to the Hindu schedule, in the long stretch of Bhadrapad Sudha Chaturthi, Ganesh Pooja is generally celebrated in the Andaman. It is likewise celebrated with the name "Vinayaka Chaturthi". Different Ganesh sanctuaries in Andaman get embellished with blossoms and Diyas, with groups of lovers visiting to offer their Shraddhanjali and supplications to Lord Ganesha.
Then, at that point, they offer dishes like "Kozhukattai" and "Sundal", which later get dispersed among the aficionados as Prasad. The ministers perform aartis and poojas. The Sri Lakshmi Vinayagar Temple at Aberdeen Bazaar and Shri Karpaga Vinyagar at Goal Ghar are must-visit during Ganesh Puja.
Aside from sanctuaries, numerous pandals are additionally positioned in country regions and towns with lovely Ganesh symbols raised in the center with different improvements.
AYAPPA POOJA: Ayappa pooja is commended to revere Lord Ayappan. As per Hindu folklore, he is the child of Shiva and Mohini. Ayyappan is additionally alluded to as Ayyappa, Sastavu, and numerous different names. It is for the most part celebrated on the fourteenth or fifteenth of January. Every one of the aficionados accumulates at Ayappan sanctuaries to offer their requests and love the symbols with bhajans and reflection tunes.
HOLI: Holi (celebration of varieties) is maybe the most bright and merry celebration of the nation broadly celebrated in various locales. Andaman is likewise observing Holi with extraordinary energy.
Individuals accumulate with loved ones to play with Colors and savories. According to the Hindu schedule, this celebration falls upon the arrival of Phalguni Poornima during the period of February-March. Individuals of all stations and beliefs observe Holi with next to no separation. It without a doubt gives joy to each and everybody absorbing themselves vivid tones.
NANAK JAYANTI: Gurunanak Jayanti is dedicatedly celebrated by Sikhs and Punjabi individuals on Kartik Poornima Day. Otherwise called Gokula Ashtami, it honors the birthday of Sikh Guru Nanak. All the Gurudwaras get wonderfully brightened with pixie lights and lights and welcome individuals, everything being equal, to offer their requests to Guru Nanak.
In Andaman, the Police Gurudwara in Aberdeen Bazar and Dr. Diwan Singh Gurudwara are primary attractions Where heaps of enthusiasts assemble to celebrate with tunes, supplications, bhajans followed by prasad.
DEEPAWALI: Deepavali, the celebration of lights is one more significant celebration celebrated by Andamanis. It has been commended for a very long time from October to Nov, which means the triumph of light over murkiness/evil. The celebration is likewise connected to Ramayana as on this day Ram, Sita, Laxman, and Hanuman return to Ayodhya subsequent to overcoming Ravana.
Individuals celebrate it by wearing new garments, appropriating desserts and gifts to dear and almost ones. They clean their homes and finish them with lights and Diyas. Saltines are rushed in various areas. In any case, wafer blasting ought to be stayed away from by individuals to improve the climate and diminish contamination
SARASWATI POOJA: Saraswati pooja is praised to adore Maa Saraswati, the Goddess of training, and Vidya. It is praised with extraordinary responsibility in instructive and professional foundations. Constant poojas and Shraddhanjalis are performed during the day.
Individuals wear conventional garments and go out to offer their requests and look for the favors of Maa Saraswati. It is broadly celebrated by youths and understudies to succeed in their schooling and expert profession. It is commended from Feb-March.
SMASH NAVAMI: Ram Navami is praised during March-April in the long stretch of Chaitra to observe Lord Ram's birthday. All the Ram sanctuaries in the area get improved with lights and Diyas and extraordinary poojas and aartis are performed by the ministers.
All the Ram Bhakts accumulate to offer petitions and look for Lord Ram's endowments. Melodies and bhajans on Lord Ram and Sita are performed. In Andaman, Ram Temples situated in Haddo, Aberdeen Basthi, and Kumrakheti are the principal attractions during Ram Navami.
VILAKKU POOJA: This Pooja has an intriguing history. Prior, this pooja was praised exclusively by wedded ladies at their homes. These days, it is praised by all individuals with sheer devotion to venerate Goddess Maa Maha Lakshmi. Every one of the sanctuaries of the district get wonderfully finished.
Every one of the wedded ladies (otherwise called Sumangalis) assemble at the sanctuaries with blossoms, turmeric, kumkum, sugar treats, and discuss refrains with the clerics and proposition their requests. The pooja go on for around 3 hours and Prasad is circulated among the fans later.
RAMZAN: Ramzan, otherwise called Ramadan is seen by Muslim individuals in Andaman. As a piece of the festival, individuals quick from first light to dusk. Before sunrise, they notice a pre-quick supper called suhur, and afterward quick for the entire day. In the evening they break the quick and consume the supper known as iftar. They additionally offer foundations to poor people. The entire festival goes on for 30 days and the whole Quran is perused during these 30 days.
PRADOSA POOJA: Pradosha Pooja is commended two times each month out of appreciation for Lord Shiva. One is praised during the time of the waxing moon and the other during the time of the deterioration moon. The symbols of Lord Pooja and Goddess Parvati are improved flawlessly to offer poojas and aartis. The icon of Nandi Dev is likewise enlivened and presented with rice. As a piece of the festival, aficionados murmur their desires to Nandi Dev after the poojas and aartis. It is accepted that Nandi Dev gives the desires to Lord Shiva.
PESTER PANCHAMI: Nag Panchami is praised on the fifth day after Amavasya in the sacred month of Shraavana. Bother, the Indian cobra is viewed as consecrated in numerous religions in India.
The celebration is generally celebrated in Andaman in the distinction of Serpent God or Nag Devata. Individuals love snakes and proposition milk to them. The Indian cobra is loved on the grounds that Lord Shiva holds an Indian Cobra around his neck. He is the main god who holds an Indian cobra.
VASANT PANCHAMI: Vasant Panchami is a celebration that denotes the primer arrangements before the beginning of the spring (Basant) season. It likewise denotes the start of the arrangement of Holika and Holi. The celebration commends the harvests of farming fields' of mustard crops. Individuals get to wear new garments and partake in incredible eats together.
MARRIAMMAN FESTIVAL: This is probably the greatest celebration of Hindus celebrated to love Goddess Arulmigu Sri Mariamman. A famous and old sanctuary is arranged in Astinabad town, which is a ways off six km from Port Blair. The aficionados of Maa Mariamman significantly accept that Maa is monitoring the Chidyatapu islands of Andaman. This celebration is praised consistently during February. the lovers assemble to perform pooja and aartis.
Individuals independent of all areas visit the sanctuary to offer their requests. This has additionally turned into a renowned Andaman traveler bundle fascination.
PANGUNI UTTIRAM: This celebration is commended out of appreciation for God Sri VetrimalaiMurugan additionally prominently known as Lord Karthika. The Sri Vetrimalai (Victory slope) Murugan sanctuary is probably the most seasoned sanctuary on these islands, which draws in herds of guests consistently. Individuals have an overwhelming inclination that their requests are satisfied by God Murugan.
During the celebration, this sanctuary is an excellent fascination with brilliant lights and pennants all through. As a piece of the festival, "Anna Dhanam" is performed for example full suppers are given to the guests. Travelers additionally effectively participate in the festivals. The fans of god Murugan stroll ablaze to arrive at the Moolasthanam where the GodMurugan's rule is put.
SANKATAHARA CHATURTHI POOJA: This pooja is performed to revere Lord Sri Ganesh. The expression "Sankata" signifies troubles. Ruler Ganesha is known to be the destroyer of hardships. Individuals love Shri Ganesha to stop their hardships.
All the Ganesh sanctuaries get flawlessly designed and aficionados rush in huge numbers to look for Ganesha's gifts. The pooja is performed on the fourth day from the day of the full moon. Some likewise celebrate it at the hour of the rising moon.
CHRISTMAS: Christmas is generally celebrated among the Christian people group of Andaman on 25th December consistently to honor the introduction of Jesus Christ. All the holy places get enlivened with lights and different enrichments and individuals accumulate in enormous numbers to offer petitions.
Individuals beautify their homes, plan savories at their homes, and welcome loved ones to partake in a luxurious dinner together.
SHIVARATRI: Another critical celebration celebrated in Andaman and Nicobar islands is Shivaratri. According to the Hindu schedule, it falls in the period of Magha, during February-March in the distinction of Lord Shiva.
All the Shiva sanctuaries get embellished with blossoms and Diyas and poojas are performed by the fans. They perform tunes and bhajans for the sake of Lord Shiva and later prasad are proposed to the guests. Individuals additionally consume bhang for the sake of Lord Shiva and enjoy moves and dramatizations.
The primary attractions during this pooja are the Lord Shiva Temples in Delanipur, Pahar Goan, and Garacharma. The famous Sri Vetrimalai Murugan Temple additionally has authentic Lingas decorated with bright blossoms implied for Lord Shiva. The Shiva Linga is likewise offered milk by fans.
ISLAND TOURISM FESTIVAL: The Island Tourism Festival held in Andaman is among the greatest celebrations held in the Archipelago, which is overall well known for its grand festivals. It is a 15-day celebration held consistently in January in Port Blair and various pieces of different islands like Havelock, Neil, Diglipur, Rangat, etc. The overall notoriety draws in a large number of travelers consistently for Andaman trip bundles.
The Island Tourism celebration has plenty of occasions for its guests. You are ensured to have a column of mystical social evenings with unrecorded music shows, dance exhibitions, theaters and plays, and other engaging occasions.
As a piece of the Festival, a fair is held in Port Blair, which displays craftsmanship and handloom slow down, food slows down serving shifted cooking styles, games for grown-ups and youngsters, children's challenges, kite playing occasions, blossom, and plant shows, and some more.
OCEANSIDE FESTIVAL: In April, a great oceanside celebration is coordinated across various seashores in Andaman. Chosen sea shores assume the liability of facilitating various occasions assigned under the Beach Festival by the Directorate of the travel industry.
Primary attractions of the Beach Festival.
The excellent expectation behind getting sorted out the ocean side celebration is to advance coastline practices alongside giving a mystical nightlife experience to the islanders and guests. Water sports exercises are a significant piece of this celebration, which are coordinated on select seashores. Sand form competition and angler dinghy race are generally the principal attractions of this celebration.
Other fun exercises include games like volleyball, kabaddi, tree climbing, back-and-forth, melodic seat, and substantially more.
On the social front, many made worked slowly down are put in better places. To give a nightlife experience to the observers, melodic shows and dance shows are coordinated.
FILM FESTIVAL: Andaman and Nicobar Islands have various lofty film celebrations consistently. One of the best film celebrations held here in Port Blair is the Panorama Film Festival. This is likewise the very first film celebration of Andaman, which was first held in 2011.
Consistently the film screens prominent component movies and narratives from across the world. It likewise welcomes eminent film characters for board conversations.
The DBRAIT Auditorium of Port Blair has different other film celebrations consistently including youngsters' film celebrations, a centennial festival of the Film Festival, and so forth.
A Patriotic Film Festival is additionally coordinated by the Directorate of Information, Publicity, and Tourism to cultivate the soul of nationalism.
STORM FESTIVAL: The Monsoon Festival is coordinated consistently by the Directorate of Tourism in a joint effort with each and every close by Department under the A&N Administration and the travel industry organization providers of the Islands. It is for the most part held in the long stretch of June-July. You can see this Festival by booking Andaman's fascinating occasions bundle visit.
The Monsoon celebration is held for both diversion and business purposes. On the business front, business shows, work arrangements, and redirection programs are coordinated.
For the diversion of islanders and guests, games, culinary shows, and customary presentations are coordinated. Unrecorded music execution, DJ music, and other music projects are the fundamental attractions.
FOOD FESTIVAL: Andaman's yearly Food Festival is heaven for food darlings. Held consistently in September in ITF ground Port Blair, it offers a mouth-watering scope of culinary pleasures to the guests. Explorers from across the world compulsorily visit this 5-day long food celebration to entice their taste buds.
The Festival is coordinated by the Tourism Department of the A&N Administration consistently to advance and advocate Indian customary foods and societies of various states and networks. Consistently, food slows down with cooking styles of various states like Tamil Nadu, UP, Punjab, Gujarat, Maharashtra, etc. Aside from food slows down, numerous social projects are likewise coordinated to engage the guests. To be a piece of the food celebration get the best Andaman visit bundles at Travotic Holidays.
WORLD TOURISM DAY: World the travel industry day in Andaman is a spectacular issue. For the year 2019, it was praised in Port Blair, which was gone to by different travel and the travel industry organization individuals. It started with individuals from the Andaman Association of Tour Operators (AATO) welcoming its vacationers with blossoms at the air terminal.
That very day, an ocean-side cleaning drive with the adage 'Sample Bharat Swatch Paryatan' was held at Marina Park, Corbyn's Cove, Chidiyatapu ocean side, and North Bay.
As the excellent fascination of the day, a "Swapmeet" was additionally made a piece of it. A wide scope of projects was coordinated to advance the nearby culture, food, expressions, and painstaking work.
Other diversion occasions like small golf, roller skaters, and different other fun exercises were directed. The excellent witticism of the festival is to teach and energize the support of islanders to advance the travel industry in the islands.
Andaman Honeymoon Package
Port Blair (03 Nights) + Havelock Island (01 Night)
Andaman Budget Tour Package
Port Blair (03 Nights) Havelock (02 Nights)
Andaman Tour from Kolkata
Port Blair (3Nights) Havelock (2Nights) Neil (1Night)
Port Blair (4 Nights) Havelock (2 Nights)
TENTATIVE  FOOD DETAILS OF AJODHYA PAHAR PACKAGE TOUR: [Guest need to be paid direct basis]
| DAY | BREAKFAST | LUNCH | DINNER |
| --- | --- | --- | --- |
| | | Rice, Aloo Bhaji, Dal, Fish curry, Chatni, Papad | Rice, Aloo Bhaji, Dal, Fish curry, Chatni, Papad |
| | Puri, Sabji, Tea / Coffee | Rice, Chips, Dal, Fish portion, Chatni, Papad | Rice / Roti, Dal, Mix Veg /Similar, Chicken Masala |
| | Bread, Omelet, Tea / Coffee | | |
REMARKS:
In case if any sightseeing is not done due to weekly closure, alternative sightseeing will be done for the same.
The tour price mentioned for this tour is for Indian nationals only.
The tour price varies for foreign nationals, for more details kindly contact our Travotic Teams.
NRIs and Foreign nationals please ensure proper identity is conveyed to the booking executive at the time of booking and all details along with passport copies are handed over to the booking executive.
The Standard Check-in and check-out time of hotels in India is generally 12.30 PM and 11 AM respectively.
TRAVEL TIPS:
For convenience make a reservation of hotels, transport, and local sightseeing of the city and journey on Luxury Trains.
Carrying an authorized map of the State and City to which you are traveling.
Carry woolen clothes in winter and walking shoes for all seasons.
Carrying all essential medicines as advised by your doctor.
Travel insurance can protect you from any unseen hazards.
Avoid taking the services of unknown and unauthorized guides/touts.
Avoid heavy baggage and prefer to use lightweight bags with wheels to avoid any inconvenience.
Inform your allergies and food habits in the hotel or restaurant before you order meals or beverages.
Avoid carrying expensive items like jewelry, gold, and valuables of high worth.
Make purchases from authorized shops and take proper vouchers of purchases made with telephone numbers and identification of salesman or owner of the shop.
Carrying safe drinking water and dry eatables while traveling.
In case of ill-health during the stay in hotels or traveling on luxury trains, Please contact our 24 X 07 Customer Support Number -8585-86-5050
Always carry a photocopy of your travel documents i.e. Passport, Visa, or Travel Pass, and inform the police immediately of the loss of any of such documents.
Give a proper wake-up call at hotel reception as and when you have to catch the early morning or late night connecting Bus or Train.
Avoid getting extra familiar with hotel staff or any other guests during your stay and in case of any abnormal or indecent behavior, report to Hotel Manager or THPL Customer Support Mobile number
Avoid booking tickets or hotel bookings through unauthorized agents.
In the event of cancellation of tour/travel services due to any avoidable/unavoidable reason/s, we must be notified of the same in writing. Cancellation charges will be effective from the date we receive advice in writing, and cancellation charges would be as follows:
60 days before arrival: 10% of the Tour/service cost
45 days before arrival: 20% of the Tour/service cost
15 days before arrival: 25% of the Tour/service cost
10 days before arrival: 50% of the Tour/service cost
07 days before arrival: Non Refundable
NOTE: In the case of Special Trains Journeys and peak season hotel bookings a separate cancellation policy is applicable (which can be advised as and when required).
SOME CANCELLATION AND REFUND POLICIES ARE OUT OF OUR TENDER:
Refund for hotel payment will follow the hotel's cancellation policy
Train tickets cancellations will follow the Railway's policy
Flight tickets cancellations will follow the airline's company policy
In case you cancel the trip after commencement, refund would be restricted to a limited amount only which too would depend on the amount that we would be able to recover from the hoteliers/ contractors we patronize. For unused hotel accommodation, chartered transportation & missed meals, etc. we do not bear any responsibility to refund.
OUR LIABILITIES & LIMITATIONS:
Please note that after the finalization of the Tour/ service Cost, if there are any Hike in entrance fees of monuments/museums, Taxes, fuel cost, or guide charges – the same would be charged as extra.
As per the Government directive, you are requested to produce your photo identity document such as Driving License/Voter ID Card/Passport/Ration Card at the point of check-in at the hotel. We appreciate your cooperation.
In case of the non-availability of requested hotels/hotels, we will provide accommodation in a similar category of hotel/hotels.
If there is any unavoidable incident occur during the tour, Travotic will not be labile for any responsibility
There will be no refund for any No Show / Unutilized services.
The itinerary may be modifying based on various factors like maintenance of monuments/museums/major like spots conventions, religious festivals, etc.
Itinerary timings on the tour are approximate and may be subject to change.
Transfers and sightseeing on a SIC basis mean transport through a comfortable coach/bus/van depending on the total number of passengers traveling with you on that same tour. Please note that Travotic Holidays will be putting together all the passengers arriving around the same time and dropping them at their respective hotels. You may talk to our holiday experts about private transfers/ transport facilities, which will be made available at an additional cost.
The customer needs to avail of the SIC from the scheduled pick-up point at the scheduled time. Travotic Holidays are not responsible if the pick-up is missed due to the customer's delay.
All personal extras such as laundry, room service, alcohol, minibar, telephone bills, pre-paid or post-paid SIM cards, etc. will be on a direct payment basis by the traveler to the service provider & Travotic Holidays will not be liable for the same at any point of time.
For all the services contracted, a 25% advance payment should be made to hold the booking, on a confirmed basis & for flight ticket booking need full actual fare. The balance amounts need to be paid 10days before the commencement of the services. Management personnel holds the right to decide upon the amount to be paid as advance payment, based on the nature of the service & the time left for the commencement of the service.
Apart from the above in some cases like Special Train Journeys, hotels, or resorts bookings during the peak season (like X-Mas, New Year, Puja, Diwali), a 50% advance payment should be made to hold the booking and 20days before full payment is required to be paid.
Note: Above mentioned payment policy may change during peak season.
Bank Details

Travotic Hospitality Pvt. Ltd.

81A, Ground Floor, Sikdar Bagan Street, Hati Bagan, Kolkata, West Bengal 700004
Bank Details

Travotic Hospitality Pvt. Ltd.

Ground Floor, Mukti Chambers, 4, Clive Row, B.B.D. Bagh, Kolkata, West Bengal 700001
Frequently Asked Questions
How to book a tour on the site?
Visit the website and enter the activity you are looking for in the search bar. After choosing the activity that you plan to take up you will drop your details with contact no, email Id, etc at inquiry form or you can drop a mail to enquiry@travoticholidays.com.
PAYMENT REFUND & CANCELLATION
What are the cancellation policies at TRAVOTIC?
We request you to check the cancellation policy on tour package page on our website. To proceed with cancellations you may go ahead and drop a mail to ...... with your ref ID...
HOW I MAKE PAYMENT AFTER CONFIRM A PACKAGE?
Travotic Holidays cater to its clients, one of finest travel affairs that you can find in Kolkata. Our clients are offered extremely well organized and properly executed tours along with the most competitive price. We are pledged upon providing our travelers with an incredible experience each and every time and we do it by following these core values.
Please share your details and our Travel expert will get in touch  shortly
Port Blair witnesses summers from the month of March to May. The temperature ranges from 20 degrees Celsius to 36 degrees Celsius. The month of April is considered the warmest month of the season. The coolest months of the city include January, February, and March which is the best time to visit Port Blair. So the best season to travel Andaman & Nicobar Island travel package is the winter season.
The best time to visit Andaman & Nicobar Islands with Andaman Travel Package is considered between October and May as the weather is pleasant, just perfect for sightseeing, water sports, and beach excursion. Monsoons (July to September) are not always recommended because of the high tidal waves, incessant rains, and strong winds.