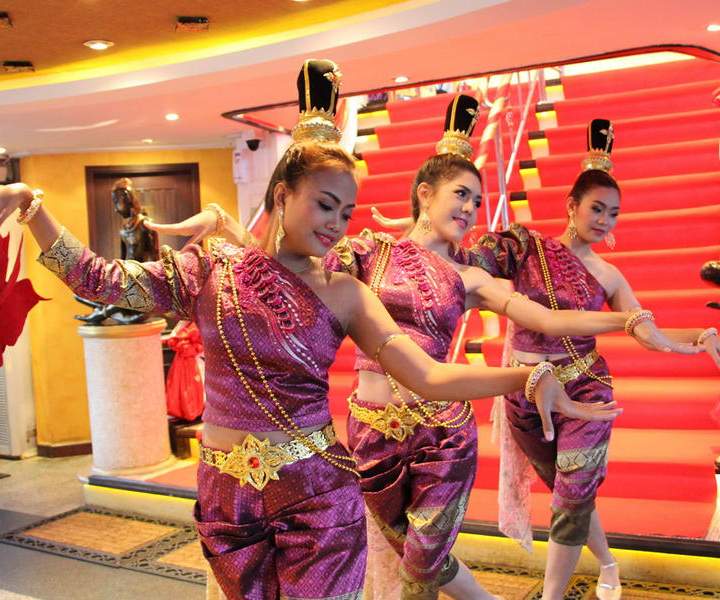 Book Thailand tour packages at the best price with Travotic Holidays | For Thailand holiday Packages call +91-8585-86-5050.
Thailand Tour Package Overview
If you're seeking a premium yet reasonably priced Thailand tour package, you've come to the perfect place, that is, at Travotic Holidays.
Thailand, one of the most well-liked travel destinations worldwide, provides a wide variety of unforgettable experiences. Everyone would find something to enjoy in this tropical paradise, from the busy streets of Bangkok to the tranquil temples of Ayutthaya and Chiang Mai, from the pristine beaches of Phuket to the legendary nightlife of Pattaya and Koh Samui.
Thailand is a kingdom with a vibrant culture and past. Its beautiful beaches, tropical climate, and fantastic food are known for its beautiful beaches. The country offers an endless number of things to do and see. If you are looking for a perfect holiday destination, Thailand should be your top choice.
Promising to provide you with a unique experience, our Thailand tour package takes you to the most beautiful places in Thailand and gives you a chance to explore its culture and heritage.
We have carefully crafted our Thailand Trip Package, keeping in mind the needs of our customers. We want each and every single one of our customers to have a stress-free trip. So, we have designed our tours so that you can spend more time enjoying yourself than worrying about anything else! We ensure to offer you the best service at every step of your journey.
The Thailand holiday packages are designed to offer you a complete vacation package. We have selected the best hotels, resorts, and luxury villas in Thailand that offer all the comforts of home and more. Be it accommodation or transportation; you can rely on us to provide you with the best service at affordable prices. Our Thailand tour package includes the top tourist destinations in Thailand, such as Bangkok, Krabi, Chiang Mai, Pattaya, Hua Hin, Phuket, Koh Samui, and many more glorious destinations.
We provide a wide selection of tours and packages for your Thailand vacation. Whether you want to spend an adventurous or a relaxing trip, we have something for everyone! If you're looking for something more comfortable, there's no better place than Thailand's tropical beaches. We offer beach break holidays with accommodation in luxury hotels or resorts near Pattaya, Phuket, and Hua Hin that are guaranteed to make your holiday stress-free! Our Thailand tour package is a package that can be customized to your needs. We provide you with the most competitive prices, so you can save money while still enjoying your vacation in Thailand.
Also, our personnel will be with you during your journey to ensure that everything runs flawlessly. They will help you with any queries or concerns about your trip, so do not hesitate to ask them if anything comes up.
| Packages | Price | Duration | Night Stay | |
| --- | --- | --- | --- | --- |
| | | | Bangkok (02Nights) Pattaya (02Nights) | |
| Thailand Honeymoon Packages | | | Phuket (2 Nights) , Krabi (2 Nights) | |
| Thailand Deluxe Tour Package | | | Phuket (2 Nights), Krabi (2 Nights), Bangkok (2 Nights), Pattaya (2 Nights) | |
| | | | | |
| Thailand Tour Package from Kolkata | | | Bangkok (2 Nights), Phuket (2 Nights) | |
| Bangkok Tour Package from Kolkata | | | Bangkok (2 Nights), Krabi (2 Nights), | |
| | | | Bangkok (2 Nights), Koh Samui (2 Nights) | |
Bangkok (02Nights) Pattaya (02Nights)
Thailand Honeymoon Packages
Phuket (2 Nights), Krabi (2 Nights)
Thailand Deluxe Tour Package
Phuket (2 Nights), Krabi (2 Nights) Bangkok (2 Nights) Pattaya (2 Nights)
Thailand Tour Package from Kolkata
Bangkok (2 Nights), Phuket (2 Nights)
Bangkok Tour Package from Kolkata
Bangkok (2 Nights), Krabi (2 Nights)
Bangkok (2 Nights), Koh Samui (2 Nights)
Thailand is a tropical country. It has three seasons and a tropical climate with three distinct seasons: hot, wet, and cool. The weather in Thailand can change from hour to hour. The climate of Thailand is tropical and monsoonal. The monsoon winds have an impact on the climate, which blows from the northeast from late October to mid-May and from the southwest from mid-May to September.
The northeast monsoon brings warm air from the Gulf of Thailand and builds heat in December and January. The southwest monsoon brings cooler air from the Andaman Sea, keeping temperatures moderate during April, May, September, and October.
The average daily temperature varies between 23°C (73°F) and 33°C (91°F), but there are wide variations between different areas of the country due to differences in altitude and exposure to the sun. This means that in Thailand, the climate varies from region to region.
Temperatures above 40°C (104°F) can be found only at low altitudes in central Thailand. In comparison, they can go down to 1-2 °C (34-36 °F) at higher altitudes on some days around Doi Inthanon national park in Chiang Mai province or on some days near Mae Hong Son province in northern Thailand from December to February period when there is no sun due to seasonality factors like cloudiness or foggy conditions prevailing over these regions.
The northern part of Thailand has a cooler climate. It's rainy in the early months of the year and hot in the summer months of June through August. Temperatures can reach as extreme as 40°C (104°F). The southern parts of Thailand have a milder climate and are dry throughout the year.
From March until May, the torrid season lasts, when temperatures usually rise above 30 degrees Celsius (86 Fahrenheit). In Bangkok, the hottest months are April and May.
From June through October, the rainy season is often warmer than the hot season. Between July and September, most of the rain falls. Many travelers avoid visiting during this time because of the humidity. Still, it is also one of the cheapest times to travel in Thailand as tourists tend not to visit during this period.
The chilly season runs from November until February when temperatures are lower than during other times of the year. However, it can still get quite warm at night during this period, so you may find yourself wanting a fan or air conditioning unit during your Thailand tour.
Ideal Time To Visit Thailand
Thailand is a diverse destination with something for everyone. From the wild and undeveloped islands of the Andaman Sea to the lush jungle of the Golden Triangle, there are plenty of options for your next holiday. Thailand is a wonderful country to visit at any time of year. However, if you are contemplating a Thailand trip and want to make the absolute most of your time there, certain seasons are better than others.
The perfect time to visit Thailand is between November and February. This is when the weather is at its most pleasant and the crowds are less. However, this is Thailand's prime tourist season, so book your Thailand trip package and flights as soon as possible if you want to travel during these months.
The weather in Thailand during this period is warm but not hot, with average temperatures ranging from 18C (64F) to 31C (88F). The humidity can be pretty high, especially in Bangkok, where the average humidity for November through February is 93%.
If you are looking for somewhere more tropical than Bangkok, consider Koh Samui or Phuket, which have an average temperature of around 28C (82F), although both places have higher humidity than Bangkok.
Also, if you want to escape the crowds, avoid weekends and public holidays – these tend to be busy times for Thai locals and tourists alike.
TEMPERATURE & RAINFALL AROUND THE YEAR

59F - 77F | 15°C - 25°C | 79MM -851MM

75F - 91F | 24°C - 33°C | 696MM – 387MM
How To Reach Bangkok/Phuket
There is 1 way to get from India to Cambodia by Flight
A flight is the only mode of transportation between India and Cambodia. So, for Thailand travel from India you will need to go by air.
From India, it takes around 4.30-4.30 hours to get to Suvarnabhumi Airport from Delhi, Mumbai, and Chennai, and approximately 2.30-2.45 hours to get there from Kolkata.
Another entry point is Phuket International Airport, from where Suvarnabhumi Airport can be reached in around 4–4.30 hours via flight from Delhi, Mumbai, Chennai, and Kolkata; there are presently no direct flights from Kolkata.
Attraction of Thailand tourism package
Place of Interest in Thailand
A city that never dozes, is Bangkok, the capital of Thailand. Here, tall high rises stand in agreement close to sanctuaries and cloisters. The extravagance of shopping centers and malls rivals the road marketplaces and drifting business sectors. Cooking styles - both Thai and from around the world are displayed in the entirety of their magnificence in the city as well as in housetop cafés. The nightlife of Bangkok, from one viewpoint, spins around garish clubs, roofs, and go-go bars. While on the other, it likewise incorporates nightclub shows, Muay Thai and dance presentations, and, surprisingly, social strolling visits. Locales like the Grand Palace, Wat Pho, and Wat Phra Kaew grandstand the city's rich history, while any semblance of exhibition halls, for example, Art in Paradise and stops, for example, the Sea Life Ocean World take care of those looking for advanced encounters.
BANGKOK ATTRACTIONS:
Grand Palace
Wat Pho Bangkok
Safari World
Dream World
Chao Phraya River
MBK Center (Ma Boon Khrong Center)
Platinum Fashion Mall
Damnoen Saduak Floating Market
Baiyoke Sky Tower
Siam Park City
Sea Life Bangkok Ocean World
Khoa San Road
Chatuchak Market
Wat Arun
Muangboran
Terminal 21
Art in Paradise, Bangkok
Chinatown
Soi Cowboy
Dusit Zoo
Siam Paragon Mall
Ladyboy Show
Wat Mangkon Kamalawat
Asiatique The Rivefront
Wat Suthat
Bangkok Art and Culture Centre
Jim Thompson House
Wat Benchamabophit
Lumpini Park
National Museum Bangkok
Wat Phrae Kaew
Royal Barges National Museum
Madame Tussauds, Bangkok
Wat Saket
Wat Traimit
Erawan Shrine (Thao Mahaprom Shrine)
Snake Farm
Museum Contemporary Art
Suan Pakkad Palace
Siam Niramit
Sathorn Unique Tower
Central World
Giant Swing
Siriraj Medical Museum
Artist's House
Train Night Market Ratchada
King Rama IX Park
Benjakitti Park
Erawan Museum
Wat Bowonniwet Vihara
Pantip Plaza
Cookin Nanta Show
Taling Chan Floating Market
Crocodile Farm and Zoo, Samut Prakan
Democracy Monument
Wat Chana  Songkhram
Wat Paknam Bhasicharoen
Khlong Lat Mayom Floating Market
Bang Nam Pheung Floating Market
Rod Fai Train Night Market Srinakrin
Emquartier
Papaya Vintage Shop
Maeklong Railways Market
Siam Center
Blue Sky Rooftop
Rattanakosin Island
Siam Discovery
JJ Green Market
Soi Rambuttri
Tha Kha Floating Market
Rattanakosin Exhibition Hall
Wat Rakhang
Wat Kalayanamitr
Central Embassy Shopping Mall
Rot Fai Park
Maggie Choo
Rajadamnern Stadium
Bang Krachao
Assumption Cathedral
Khlong Toei Market
Wat Hua Lamphong
Wat Mahathat
Loha Prasat
Benjasiri Park
Kamthieng House Museum
Chitralada Palace
Royal Thai Air Force Museum
Wat Intharawihan
Flow House
Patpong Night Market
Amulet Market
Siam Square
Museum Siam
Emporium Bangkok
KidZania Bangkok
Sanam Luang
Dusit Palace
Icon Siam
H Gallery
Nana Plaza
Seacom Square
Amphawa Floating Market
Pattaya is a waterfront city in the Gulf of Thailand that throughout the years has consistently outgrown its scandalous tag. The seashores and islands in Pattaya offer a wide assortment of watersports, swimming, cafés, bistros, and keepsake shops, making it ideal for families, companions, and couples. The nightlife in Pattaya is very renowned for being boisterous and tricky-free. Strolling Street in Pattaya is normal for brilliant streetlamps and signs drifting over open bars, go-go bars, and ladies remaining along the roads. Famously known as Thailand's Sex capital and party center. Pattaya is separated into three zones North, Central, and South every one contribution something other than what's expected from the other.
PATTAYA ATTRACTIONS:
Walking Street
The Sanctuary of Truth
Jomtien Beach
Pattaya Beach
Tiffany's Cabaret Show
Pattaya Night Bazaar
Koh Larn (Coral Island)
Pattaya View Point
Sriracha Tiger Zoo
Pattaya Floating Market
Underwater World Pattaya
Snorkeling Pattaya
Scuba Diving in Pattaya
Mimaso Pattaya
Khao Kheow Open Zoo
Nong Nooch Botanical Garden
Wat Phra Khoa Yai
Art in Paradise
Khao Chi Chan
Ripley's Believe it or not Museum
Muni Siam
The Million-Year Stone Park And Pattaya Crocodile Farm
Wat Yanasangwararam
Cartoon Network Amazone Water Park
Ko Phai
Central Marina Pattaya
Pattaya Sheep Farm
Madura Island
Central Festival Pattaya
Soi Buakhao
Teddy Bear Museum
Wong Amat Beach
Ramayana Water Park
Elephant Village Pattaya
Pattaya Park Tower
Pattaya Dolphin World
Gems Gallery Pattaya
Bang Saray Beach
Perhaps the most established region in Thailand, Krabi is home to the customary, touristy, and neighborhood flavor. Nonetheless, there is something else entirely to the area underneath the surface. Krabi, a well-known Southern Thai ocean side objective, is acquiring notoriety and is revered by a larger number of people. Not quite so famous as Bangkok or Phuket, Krabi has its own appeal and can figure out how to deeply inspire you assuming you allow it an opportunity.
KRABI ATTRACTIONS:
Railay Beach
Tiger Cave Temple
Phi Phi Islands
Krabi Town
Hong Island
Ao Nang Beach
Thung Teao Forest Natural Park
Maya Bay
Koh Kradan
Tub Kaek Beach
Night Market
Khao Kanab Nam
Wat Kaew Korawaram
Krabi Emerald Pool
Ko Panyi
Tonsai Beach
Phra Nang Beach
Phra Nang Cave
Nopparat Thara Beach
Koh Ha
Klong Muang Beach
Krabi Elephant Sanctuary
Backpacking in Krabi
Snorkeling in Krabi
Phuket has all that Thailand brings to the table. Overhauled by the Phuket International Airport, the island sees no shortage of explorers during any season. Brilliant seashores, numerous seaward islands, peppy business sectors, a supercharged nightlife, and exciting watersports. Seashores like Surin and Kata take special care of families and those people with whimsical preferences. Patong's ocean side, then again, takes care of every one of the individuals who like it modest, noisy, and insane, even after the dusks. Bangla street with its many bars, ping pong shows, and road food merchants wakes up as the night becomes older. The people who avoid mixed-up brilliant lights and liquor will end up at the Cabaret shows or even at the consistently well-known road markets. The Phuket Walking Street or Phuket Weekend markets are spots where one can go through hours filtering through different garments, keepsakes, and curiosity things. Phuket offers numerous customary exercises and encounters as well. Appreciating heat and humidity lasting through the year. Phuket takes care of a wide range of explorers - be it families, people, couples, or gatherings, across all spending plans. Yet, among them, a specific segment really does especially stick out. With plenty of top-of-the-line resorts along most seashores, lodgings, extravagance shopping outlets, and spas, Phuket is a safe house for those hoping to go a little overboard enormous on their get-away and look great while making it happen.
PHUKET ATTRACTIONS:
Patong Beach
Bangla Road
Bid Buddha
Kata Noi Beach
Phuket Weekend Night Market
Karon View Point
Phi Phi Island
Kata Beach
Nightlife Phuket
James Bond Island
Surin Beach
Tiger Kingdom
Simon Cabaret
Phuket Fantasea
Phuket Old Town
Karon Beach
Phuket Elephant Park
Nai Harn Beach
Chalong Bay Rum Distillery
Scuba Diving in Phuket
Wat Chalong
Green Elephant Sanctuary Park
Freedom Beach
Snorkeling in Phuket
Promthep Cape
Monkey Hill Phuket
Koh Lanta
Water Sports
Khao Rang Hill View Point
Jui Tui Shrine
Bang Tao Beach
Ziplining in Phuket
Gabbion Rehabilitation Project
Siam Niramit Phuket
Phuket Trickeye Museum
Bang Pae Waterfalls
Soi Dog Foundation
Raya Island
Phuket Aquarium
Phuket Weekend Market
Mai Khao Beach
Ko Panyee
Karon Temple Market
Phuket Seashell Museum
Splash Jungle Water Park
Thai Hua Museum
Thalang National Museum
Phuket Wake Park
Rawai Beach
Banana Beach
Chillva Market
Kamala Beach
Kathu Waterfalls
Siriant National Park
Dolphins Bay Phuket
Nai Yang Beach
Khao Phra Thaeo National Park
Malin Plaza Patong
Tri Trang Beach
Koh Yao Yai
Coral Island
Wat Phra Thong
Wat Phra Nang Sang
Patong Night Markets
Cape Panwa
Patong Go-Kart Speedway
Ao Sane Beach
Saphan Hin Park
Nai Thon Beach
Laem Sing Beach
Wat Sri Sunthon
Shrine of the Serene Light
Phuket Mining Museum
Wat Khao Rang
Khao Khad Viewpoint
Ya Nui Beach
Upside Down House of Phuket
Wat Suwan Khiri Wong
Wat Suwan Khiri Khet
Ton Sai Waterfall
Windmill Viewpoint
Community Park Phuket
Pansea Beach
Kokchang Safari
Chinpracha House
Wat Nai Harn
Heronie's Monument Phuket
Friendship Beach
Phuket Art Village
Wat Sireh
Chalong Night Market
Bang Neow Shrine
Phuket Botanic Garden
Layan Beach
Sui Boon Tong Shrine
Tsunami Menorial Park Kamala
Bungee Jumping in Phuket
Laem Ka Beach
John Gray Sea Canoe
Maithon Island
Patong Inn Art
Phuket Bird Paradise
Kalim Beach
Phuket Vegetarian Festival
Phuket Cobra Show and Snake Farm
Phuket Philatelic Museum
Thavorn Hotel and Museum
Peranakon Phuket Museum
Jungceylon
Koh Tarutao
Koh Racha
Khai Island
Phuket Walking Street
Koh Yao Noi
Phang Nga Bay
Paradise Beach Phuket
Chalong Bay
OTOP Patong
Previously the seat of the Lanna Kingdom and viewed as the northern capital of Thailand, Chiang Mai is entirely different from what beginners to Thailand anticipate that it should be. Dissimilar to its southern partners, Chiang Mai is known for its laid-back flows, various sanctuaries and cloisters, swarmed nearby business sectors, normal and recorded locales, and the field with lavish plant life. Wat Phra Doi Suthep and Wat Phra Singh are the absolute most visited Buddhist sanctuaries around here with the previous being a milestone fascination lodging the popular Emerald Buddha sculpture. Visits to these sanctuaries include climbs through tourist detours and once in a while tropical vegetation. Social encounters also are at the very front in Chiang Mai. Dishes like Khao Soi are gladly introduced to sightseers who are hoping to attempt the neighborhood flavors.
CHIANG MAI ATTRACTIONS:
Doi Suthep
Wat Phra Singh
Chiang Mai Night Safari
Doi Inthanon National Park
Elephant Jungle Sanctuary
Wat Chedi Luang
Fight of the Gibbon
Saturday / Sunday Walking Street
Chiang Dao Cave
Art in Paradise
Lanna Folklife Museum
Hill Tribes
Chiang Mai Zoo
Bo Sang Umbrella Village
Chiang Mai City Arts & Cultural Centre
Hiking in Chiang Mai
Wiang Kum Kam
Wat Umong
Warorot Market
Royal Park Rajapruek
Kat Rin Kham Night Bazaar
Wat Chiang Man
Wat Chet Yot
Wat Phakhao
Doi Ang Khang
Mon Jam
Chiang Mai Gate Market
Wat Lok Moli
Mae Ping River Cruise
Wat Phan Tao
Loi Krathong
Huay Tung Tao Lake
Patara Elephant Farm
Kalare Night Bazaar
San Kamphaeng & Bo Sang
Maese Elephant Camp
Queen Sirikit Botanic Garden
San Kamphaeng Hot Springs
Anusarn Night Bazaar
Bua Tong Sticky Waterfalls
Chang Puak Gate Night Market
Thai Elephant Care Centre
Songkran
Wat Srisuphan
Wat Pha Lat
Wat Phra That Doi Kham
Grand Canyon, Chiang Mai
Baan Chang Elephant Park
Suan Dok Gate
Mae Sa Waterfalls
Fang
Mae Rim
Wat Buppharam
Baan Tawai
Elephant Retirement Park
Ploen Ruedee Night Market
Baan Mae Kampong
Chinatown
Hang Dong
Chiang Mai Historical Centre
Doi Chiang Dao Wildlife Sanctuary
Doi Pui Hmong Hill Tribe Village
Pha Daeng National Park
Doi Pha Hom Pok National Park
Tha Ton
Wat Phraphutthabat Si Roi
Chinese Cemetery
Tha Phae Gate
Flower Festival
Wat Tham Pha Plong
Canopy Walkway
Wat Tha Ton
Talat Ton Lam Yai
Wat Mahawan
Wat Ku Tao
Samoeng Loop, Mae Sa
Khun Chang Khian
Natural Science Museum
Wat Phan On
Talat Mung Mai
Baan Kang Wat
Wat Inthakhin Saduemuang
Wat Tham Chiang Dao
Suan Buak Hat
Chiang Mai University Art Museum
Wat Jet Lin
Wat Chomphu
Chinese New Year, Chiang Mai
Anusawari Sam Kasat (Three Kings Monument)
Chiang Dao
Dara Pirom Palace
Wat Ou Sai Kham
Poy Sang Long
Treasury Pavilion Coin Museum
Sub-Zero Ice Skate Club
Kham Tiang Flower Market
Wat Thung Yu
Chaing Mai Mountain Biking & Kayaking
Wat Chai Phra Kiat
Wat Si Koet
Chiang Mai Red Cross & Winter Fair
Inthakhin Festival
Wat Sum Pow
Wat Ratchamonthian
Talat Thanin
Talat Na Mor
Talat Ton Phayom
Talat Somphet
Wat Dokkham
Phonrat Witthayakon
Bhubing Palace
Elephant Nature Park
Huay Kaew Waterfalls
Chiang Mai National Museum
Museum of World Insects and Natural Wonders
Tiger Kingdom
Nimmanhaemin Road
Chaing Mai Night Bazaar
Central Festival Chiang Mai
San Kamphaeng Road
Wat Chaloem Phra Kiat
Pha Chor
Maetaman Elephant Camp
Koh Pha Ngan is an island that is essential for the Chumphon Archipelago, situated between the islands of Koh Samui and Koh Tao. It is undeniably popular for its full moon parties on Haad Rin, normally the remainder of the time the island stays half unfilled. This immense inland wilderness is extremely quiet and its peaceful narrows can be similarly as wonderful for families and hikers.
KOH PHA NGAN:
Full Moon Party
Thong Sala Night Market
Yang Na Nai Tree
Kuan Yin ( Guan Yin) Chinese Temple
Wat Pho
Phra Nakhon Si Ayutthaya (in short it is called Ayutthaya), is a little city in Thailand containing archeological locales like sanctuaries, religious communities, royal residences, and so on. It lies only 80 kilometers north of Bangkok and subsequently is an ideal objective for a road trip from Bangkok. Ayutthaya offers a great deal of Wats and cloisters like Wat Phra Sri Sanphet, Wat Mahathat, Wat Ratchaburana, and a lot more where travelers normally go for touring. It is a well-known road trip decision for explorers who are in Thailand and need to see something else that has outwardly more legacy.
AYUTTHAYA ATTRACTIONS:
Ayuttahaya Historiuracal Park
Wat Mahathat
Wat Phra Si Sanphet
Wat Chaiwatthanaram
Bang Pa-in Palace
Chao Sam Phraya National Museum
Wat Yai Chai Mongkhon
Wat Ratchaburana
Wat Phanan Choeng
Wihan Phra Mongkhon Bophit
Portuguese Settlement, Ayutthaya
Ayutthaya Floating Market
Wat Na Phra Men
Elephant Stay
Saint Joseph Catholic Church, Ayutthaya
Million Toy Museum
Baan Hollanda
Wat Lokayasutharam
Wat Suwandararam
Japanese Village, Ayutthaya
Wat Phu Khao Thong
Wat Thammikarat
Wat Phutthaisawan
Ayutthaya Ferry Boat
Thai Boat Museum
Chandrakasem National Museum
Wat Maheyong
Chedi Phra Sri Suriyothai
Chang Wat Phra Ram
Ayutthaya City Park
Ayutthaya Tourist Center
King Narasuan Monument
Chedi Wat Sam Pluem
Wat Kudi Dao
Wat Tha Ka Rong
Wat Chang (Monastery of the Elephant)
Old Royal Palace
Queen Suriyothai Monument
Ayutthaya Historical Study Centre
Ayutthaya National Art Museum
Pom Phet Fortress
Krungsri Market
Wat Pichai Songkram
Wat Samana Kottharam
Wat Kasatrathirat Worawihan
King U-Thong Monument
Pridi Banomyong Memorial
Wat Yanasen
Wat Phanom Yong
Wat Borom Puttharam
Wat Phra Ngam
Wat Worachetharam
Wat Suwandawas
Wat Choeng Tha
Pratu Khao Pluak Fortress
Wat Phraya Man
Chao Phraya River, Ayutthaya
The second-biggest island of Thailand, Ko Samui is a diamond of an island in the Koh Samui (or basically Samui) Archipelago which lies in the Gulf of Thailand. Experience exercises are quickly becoming well known in Koh Samui, however, generally, the island is still generally famous for its retreats and loosened up seashores. Make certain to attempt the salted eggs when in the area. Additionally famous is the tropical natural product Rambutan which sightseers can't quit discussing in any event when they return to their nations of origin.
The island looks peaceful with clear blue waters and white sand oceanside
es encompassed by lavish green timberlands. Whether you love the uproarious and happening Chaweng Beach or the enthusiastic yet loosened up the environment of Lamai Beach or the ageless feel of Bophut's Fisherman's Village or the tropical ocean side heaven of Maenam, Koh Samui gives an extraordinary encounter
KOH SAMUI ATTRACTIONS:
Wat Phra Yai
Ang Thong National Marine Park
Wat Khunaram
Na Muang Waterfalls
Hin Ta & Hin Ya Rocks
Wat Plai Laem
Hat Lamai Beach
Chaweng Beach
Fisherman's Village
Lad Koh Viewpoint
Laem Sor Pagoda
Mae Nam Beach
Bophut Beach
Wat Khao Hua jook
Hin Lad Waterfall
Bang Po Beach
Wat Racha Thammaram
Wang Sao Thong Waterfall
Wat Samret
Guan Yu Statue, Koh Samui
Mae Nam Viewpoint
Ban Hua Thanon Beach
Coconut Museum
Mae Nam Chinese Temple
Tan Rua Waterfall
Baobab
St Anna Catholic Church
Coco Tam's
Hainan Temple
Ao Phang Ka, Koh Samui
Ko Samui Central Mosque
Chaweng Beach
Secret Buddha Garden
Coral Cove Beach
Choeng Mon Beach
Taling Ngam Beach
Koh Tan
Samui Elephant Sanctuary
Lipa Noi Beach
Hua Hin is an eminent objective among the two local people and travelers the same. When known as the ocean side escape for Thai royals due to their late spring castles, this shoreline resort is developing into a stylish escape for guests to get away from the boisterous metropolitan city life, particularly that of Bangkok. Hua Hin has a wonderful blend of the ocean and city existence with astonishing fairways, energetic business sectors, extraordinary convenience, and fun waterparks.
HUA HIN ATTRACTIONS:
Cicada Market
Hua Hin Train Station
Plearn Wan Shopping Village
Hua Hin Night Market
Monsoon Valley Vineyard (Hua Hin Hills Vineyard)
Kaeng Krachan National Park
Phaya Nakhon Cave
Black Mountain Water Park
The Venezia Hua Hin
Hua Hin Beach
Mrigadayavan Palace
Wat Huay Mongkol
Khao Tao
Khao Sam Roi Yot National Park
Santorini Park Hua Hin
Tham Khao Luang Cave
Pranburi Beach
Vana Nava
Seenspace
Pa La-U Waterfall
Koh Tao is an island in the Chumphon Archipelago gathering of islands in the southeastern piece of Thailand. It has the absolute best and least expensive plunging spots on the planet. On one hand, it has a glad and energetic nearby culture, and on different, has a loosening up climate and energizing nightlife.
Koh Tao, being inseparable from plunging, requires four days to do a PADI or ISSI jumping course. Most explorers come here for jumping training. Koh Tao is known for its unblemished white sand seashores, lamp-lit eateries, delightful food, and obviously, the plentiful ocean turtles living on its shores.
KOH TAO ATTRACTIONS:
Hin Wong Bay
Koh Nang Yuang Island Viewpoint
Yaai Mae and Taa Tao Spirit Rocks
Wat Koh Tao
King Rama V Rock and Statue
Scuba Diving
Sairee Beach
Koh Nang Yuan
Shark Bay Koh Tao
Similan is an archipelago of 9 little islands which has Malay roots. The Similan islands public park is a UNESCO World Heritage site. These are a portion of Thailand's most staggering spots with delightful marine life submerged and furthermore incredible birds in the air. There are amazingly pleasant white sand seashores with flawless blue waters. The islands additionally have many climbing trails for the bold soul. Nine islands are Ko Bn, Ko Bayu, Ko Similan, Ko Payu, Ko Miang (two bordering), Ko Payan, Ko Payang, and Ko Huyong. Out of the nine, guests are just permitted on two, Ko Miang and Ko Similan. The Similan islands are viewed as the best plunging spot in Thailand with coral reefs north of 5000 years of age and broad marine life including ocean turtles, beams, moray eels, and whale sharks, and a huge local area of exotic fish. In the air as well, the Similan gloats of birds like ocean falcons, kingfishers, and Nicobar pigeons. Having an incredible scope of trees in the thick woods like ironwood, gum, jackfruit, and bamboo is additionally known.
Chiang Rai is a hilly city in northern Thailand, close to the boundaries of Laos and Myanmar. It has numerous antiquated sanctuaries and ancestral towns along the Mekong waterway. It is currently renowned for its sanctuaries and other social attractions, particularly the Black and White sanctuaries. It is an ideal objective for wilderness traveling and drawing in with the slope clan culture.
CHAING RAI ATTRACTIONS:
Wat Rong Khun
Clock Tower, Chaing Rai
Baan Dam Museum
Doi Mae Salong
Doi Chang
Wat Phra That Doi Chom Thong
Mae Fah Luang Garden
Chiang Rai Night Bazaar
Phu Chi Fah
Khun Korn Waterfall
Oub Kham Museum
A UNESCO World Heritage site, Khao Yai National Park is Thailand's most established and most visited public park laid out in 1962. It covers in excess of 2,100 square kilometers. The recreation area flaunts a lavish green scene, rough mountains with thick backwoods, superb cascades, and fascinating types of birds and creatures. Guests will get to appreciate species like panthers, tigers, gibbons, bears, elephants, and some more. What's more, they will likewise get to observe north of 300 different bird species. Explorers from around the world come running here for their hypnotizing climbing trails.
Koh Lipe is one of the islands of the Tarutao Marine National Park. At first, this island was prevalently settled by the Chao Ley or the ocean wanderers who live in little towns here. The travel industry has expanded in Koh Lipe since the 1990s and hasn't seen an interruption from that point onward. The tremendous reefs and ravishing white-sand seashores don't neglect to draw in anybody.
Koh Lipe is home to two of the best seashores in Thailand, Hat Sunrise and Hat Pattaya. They are immaculate white fine sand seashores with a broad coral reef. With expanding guests since the 1990s, this spot is inclined to some trash harm, however, it isn't so much that huge an issue. Koh Lipe is a very much evolved delightful island with an extraordinary scope of exercises like jumping and swimming to do.
Sukhothai is home to approximately 190 ancient sites and temple ruins. It is known to mark the beginning of the Thai civilization. Most of the monuments and ruins are restored at the Sukhothai Historical Park, which has been designated as a UNESCO World Heritage Site.
The first Thai capital of Siam founded by King Ramkhamhaeng during the 13th century, Sukhothai has an incredible history that attracts many tourists to it. Besides Wat Mahathat and Wat Si Chum, which are famous tourist spots, you are advised to visit the temple ruins to get a more detailed study of Thai history as Sukhothai is the city that is known for its political and cultural birthplace of Thailand. It also serves as a venue for the very popular Loy Krathong Festival of Thailand held annually on the full moon in November, so you can head here to experience some beautiful folk performances and light shows.
SUKHOTHAI ATTRACTIONS:
Sukhothai Historical Park
Ramkhamhaeng National Park
Loy Krathong Festival
Phra Mae Ya Shrine
It also serves as a venue for the very popular Loy Krathong Festival of Thailand held annually on the full moon in November, so you can head here to experience some beautiful folk performances and light shows. The island is best known for its clear waters and white sand beaches that are often compared to the beaches of Maldives. Don't expect to find anything remotely resembling nightlife. Once the sun sets, the waves, moonlight, and your drinks of choice are what keep you company. A natural wonder with most of its land covered in jungle and mountainous terrain, hence boosting the gorgeous waterfalls.
A city in Southern Thailand known for its food and culture. It has a similar customary legacy as the close-by urban areas of Krabi and Phuket. It isn't packed, yet an energetic city with numerous regular attractions encompassing it. A great many people use Trang similarly as a travel location to get to different urban areas, yet you ought to remain for a little while to encounter lovely neighborhood culture and markets. Trang's untainted white-sand seashores offer harmony and serenity since it isn't attacked by mass the travel industry. There is generally some little celebration occurring here that overflows custom. The environmental elements incorporate caverns, lakes, underground aquifers, and cascades, making it ideal for nature sweethearts.
TRANG ATTRACTIONS:
Wat Tantayaphirom
Hat Chao Mai National Park
Hat Pak Meng
Meunram Shrine
Koh Chang is otherwise called Elephant Island. Its most excellent islands of Thailand with unblemished white sand seashores and perfectly clear waters, extraordinary for swimming and jumping. There are additionally a few amazing mountains and wildernesses where climbing is exceptionally well known. With everything taken into account, Koh Chang is an unspoiled objective for an explorer searching for experience and gatherings in equivalent sums.
KOH CHANG ATTRACTIONS:
Diving and Snorkeling
Elephant Trekking
Koh Chang Waterfalls
Klong Prao Beach
Turn into a renowned vacation destination after the novel 'The scaffold over the River Kwai'. It's notable for its cascades and public parks. The main fascination of this spot is the "Demise Railway" which worked during World War II. All things considered, Kanchanaburi is a treat for nature and history darlings.
KANCHANABURI ATTRACTIONS:
Bridge On The River Kwai
Elephantsworld Kanchanaburi
Kanchanaburi War Cemetery
Erawan National Park
Huay Mae Khamin Waterfalls
Erawan Waterfall
Khao Laem National Park
This promontory of limestone banks is an excellent objective for a laid-back rest. Just available just by boat. Railay is a unique spot for dynamic plunging, kayaking, and rock moving; as well as unwinding at your retreat. Railay is known to have no specific streets, just pathways, making it an issue-free land.
RAILAY ATTRACTIONS:
Rock Climbing Railey
Tham Phra Nang Cave
ViewPoint and Lagoon
Ubon Ratchathani is a little city in Thailand. It mopes on the banks of the Mun River and represents the regal lotus city. Established in Buddhist culture, Ubon has various Buddhist religious communities and sanctuaries with apparent Lao impact. In spite of being a little city, it is very evolved and is very occurring. Ubon is well known for its shining sanctuary and candle celebration among the wide range of various things. Effectively reachable by a departure from any of the air terminals in Thailand, a spot is an unquestionable requirement to visit assuming society intrigues you.
Ubon Ratchathani (Ubon meaning little) is one of the four significant urban areas in Isaan. The other three are Nakhon Ratchasima, Udon Thani, and Khon Kaen. Ubon is an incredible spot for history devotees as well. With various exhibition halls that portray their way of life and others featuring the World War, Ubon tells drawing stories.
A city known for its sericulture and elephants is presently seeking to turn into a worldwide place of interest. Guests frequently drop in for 1-2 days from November to March since this city doesn't have an excessive number of activities, and is in many cases left calm for the remainder of the year. Notwithstanding, the flood of sightseers in Thailand, Surin has seen many changes as of late. From food to shopping to chronicled landmarks, this city has picked up speed throughout the long term. The city is 5 hours from Bangkok and contains 13 territories. The verifiable landmarks and culture that are seen in Surin primarily uncover Khmer culture, an ethnic gathering that has been living in Northern Thailand for more than 5 centuries. In any case, this spot offers legitimate as well as present-day accommodation.
Situated between Mae Hong Son and Chiang Mai, this lovely little town of Pai is encircled by mountains all over and is a fantasy objective for an explorer. The appealing stream Pai streams across this town which makes boating a well-known sport here. Other than that, journeying and climbing are other audacious choices. It is one of the most pleasant scenes of Thailand offering vast mountains to climb, and the excellent Pai River to rest by. There are likewise a couple of Burmese-style sanctuaries, cascades, and underground aquifers to visit.
PAI ATTRACTIONS:
Bamboo rafting and white water rafting
Trekking in Pai
Pai Cayon
WWII Memorial Bridge
Khao implies mountain so Khao Lak in a real sense implies Lak Mountain. A mix of six seashores, these towns all consolidate to frame 'Khao Lak' as far as we might be concerned. The seashores are a beginning stage for those wishing to investigate close-by regions and northern Andamans as well. Each ocean side has its own energy as does each market. A portion of the seashores is - Hat Nang Thong, Hat Bang Niang, Hat Pakarang, and Hat Bang Sak. Come to this energetic yet chill place in the event that you wish to lie around and unwind near the ocean yet not be packed by crowds of individuals.
Khao Lak is a series of towns that lie on the west bank of Thailand. When a calm and obscure land, these towns are quickly turning into a focal point for experiencing sports and ocean side exercises between both Thai local people and sightseers the same.
LAK KHAO ATTRACTIONS:
Khao Lak Lam Ru National Park
Bang Niang Beach
Diving in Khao Lak
Nang Thong Beach
Snorkeling in Khao Lak
Ton Chong Fa Waterfalls
Khao Lak Sunset Beach
International Tsunami Museum
Vegetarian Festival
Scuba and Snorkeling
Known as the Naga city, Nong Khai is a model for the Issan culture of north-east Thailand, which is altogether different from the way of life continued in the remainder of Thailand. This town has a developing traveler industry with numerous outsiders visiting a large number of years. The main attractions are Sala Keaw Khu, the enormous and glorious model park, Luang Por Phra Sai Buddha picture, the Tha Sadet Market which flaunts Thai-Lao culture, and the Phu Phra Bat Historical Park. The town is known for very kind and warm local people who genuinely regard the Issan culture and history of Naga and Lord Buddha. Nong Khai is likewise home to the well-known Buddhist Lent Festival.
NONG KHAI ATTRACTIONS:
Sala Kaew Khu
Wat Pro Chai
Tha Sadet Market
Nong Khai Aquarium
Tracing all the way back the eight hundred years, this city is known to have the most established settlements in Thailand. The city is arranged on River Phet and is home to a few lovely sanctuaries and the well-known Royal Palace. Phetchaburi is all the more a functioning farming city and not exceptionally well known as a place of interest, in any case, there's a great deal to see for the guests as well.
Otherwise called the Diamond City, this city is situated on the exquisite Phet River. Whether you need to walk around the clamoring markets or you're a set of experiences and workmanship buff for the various sanctuaries, this city offers you each specialty you could imagine.
PHETCHABURI ATTRACTIONS:
Phra Nakhon Khiri
Wat Mahathat Worawihan
Tham Khao Luang
Surat Thani gives a base point from which voyagers wander across Thailand. When the seat of the Srivijaya Empire, Surat Thani today is a significant exchange and transport center point. Being an old city a few remains are as yet noticeable right up 'til today and accessible for the set of experiences buff to spout over.
SURAT THANI ATTRACTIONS:
Wat Phra Boromathat Chaiya Ratchaworawihan
Oyster Farm
Rock Fish Museum
Namtok Vibhavadi
Monkey Training College
Khanom
Khao Sok National Park
Sangkhlaburi is a high-elevation city toward the finish of Thailand, only 25 kilometers from the Burma line. It has the lovely Vajiralongkorn Lake (Khao Laem) where most voyagers take a boat ride, rest, and partake in the day. Most area of the city is covered by thick backwoods and limestone ranges. Indented sanctuary and Temple Wat Mon are the two novel and terrific sanctuaries that ought to be an absolute necessity to visit in Sangkhlaburi. It is separated into 'Town Center' and 'Mon Village', the two of which are associated continuously longest hand-made span on the planet 'wooden extension'.
SANGKHLABURI ATTRACTIONS:
Wat Wang Wiwekaram
Sunken Temple
Three Pagoda Pass
Mon Bridge
With a rich history and culture, an extremely loosened up vibe, beautiful cascades and woods, slopes and a riverside, and flavorful foods are grown from the ground, Chanthaburi is an optimal location for a wide range of individuals. Many changed societies have affected Chanthaburi starting around 1893. The encompassing territory has lavish green woods on slopes and a few fabulous cascades to absorb some nature in the wake of encountering the rich culture and legacy of the city.
CHANTHABURI ATTRACTIONS:
Cathedral of the Immaculate Conception
Temples in Chanthaburi
Taksin Shrine and City Pillar Shrine
Waterfalls Chanthaburi
Koh Samet is known for being an end-of-the-week escape from Bangkok for travelers. Bragging around 16 seashores with the sea blue ocean, this island is an ideal objective for somebody hoping to unwind and encounter the incredible nightlife. With perfect blue waters, brilliant corals, and in excess of 16 white sand sea shores, Koh Samet is a dazzling T-formed island 200 miles from Bangkok. It has become perhaps the most famous island in Thailand with incalculable vacationers and explorers visiting.
KOH SAMET ATTRACTIONS:
Scuba Diving in Koh Samet
Wat Ko Kaew Pitsadan
Sai Kaew Beach
Lopburi territory is situated on the Lopburi waterway and it encounters a tropical savannah environment. It is separated into the Old and the New town. Lopburi is perhaps the most seasoned city in Thailand, situated around 150 kilometers from Bangkok city which requires around 2.5 hours. A city houses noteworthy remains and ancient rarities which assume a significant part in Thailand's way of life. It is well known for monkeys, design survives from the Khmer domain, rock climbing, and sunflower fields. It tends to be effectively done as a road trip assuming you are wanting to come from adjacent urban areas. Dissimilar to other vacationer urban areas, Lopburi has exceptionally laid-back air and it seldom encounters any flood of travelers.
LOPBURI ATTRACTIONS:
Ban Vichayen
Phra Prang Sam Yot
King Narai's Palace
Wat Phra Si Ratana Maha That
Sub Lek Reservior
Lopburi Zoo
Peacock Temple
Rock Climbing
Sunflower Fields
Ang Thong National Marine Park Tourism
Ang Thong National Marine Park is a safeguarded archipelago of 42 islands. The peacefulness of these islands is spellbinding to the point that one of the island's lakes - Lake Emerald - was highlighted in the film 'The Beach' featuring Leonardo Dicaprio. The Park targets protecting its scenes from the weakening of the current turn of events. The Marine Park highlights Limestone Mountains, thick wildernesses, white-sand seashores, cascades, strange lakes, neglected caverns, and little climbs paving the way to amazing perspectives. The Park houses an assortment of colorful types of vertebrates, ocean animals, birds, reptiles, and trees.
Otherwise called Khorat or Korat, is the capital city of the territory of a similar name and is one of the most present-day urban areas in the upper east district of Thailand. It is likewise among the best-associated of the 'Huge Four of Isaan' - the other three being Ubon Ratchathani, Udon Thani, and Khon Kaen. Probably the greatest area in Isan, it was underlying the late seventeenth hundred years by King Ayutthaya to safeguard the northeastern boondocks from the Khmer assault. The feature of the actual city is, in any case, the overwhelming sculpture of Thao Suranaree, a champion lady, who drove herself and her soldiers to a gutsy and pounding triumph against, the Laotian trespassers. This 6th biggest city in Thailand is an exciting blend of culture, history, and innovation.
Mae Sot in the Tak area is the exchange center point of Thailand. The city is prestigious for its native earthenware culture overflows with an assortment of items that are suggestive of most of the populace, which is Burmese. One can hope to track down a varied scope of road food, apparel, and adornments. Other than being the undeniable market center point, one should visit the spot for its brilliant building ponders in the type of Buddhist sanctuaries and religious communities.
Ko Si Chang is an area of Chonburi Province, Thailand. It comprises the island of Ko Si Chang and its abutting islands. It is in the Gulf of Thailand, 12 kilometers off the shore of Si Racha District. Being a fishing town, the ocean side has a casual climate and a sluggish-paced way of life. The spot is loaded up with various attractions like the impressions of Buddha, and the illustrious royal residence, from there, the sky is the limit. The locale comprises a solitary sub-area known as a tambon, Tha Thewawong. The locale is totally covered by the municipality (the Saban tambon) Ko Si Chang. Tham Phang's ocean side is on the West Coast and is a sandy ocean side with not many rocks it is additionally the island's greatest ocean side.
Koh Yao Noi is the sister island of Koh Yao Yai situated in Phang Nga Bay, west of Phuket. An ideal escape for the explorer looks for isolation under the sun and sand. Koh Yao Noi in the language means 'The Small Long Island' and it remains consistent with its guarantee.
The excursion from focal Krabi to Koh Jum isn't extremely muddled. Guests can undoubtedly take a boat or a ship to this island, which runs frequently. Ko Jum isn't just a spot for unwinding as it likewise has an assortment of things to enjoy, for example, Snorkeling, Scuba Diving, and journeying alongside a bunch of delightful spots to see like Ting Rai Beach, Magic ocean side, and Ao Si Beach.
It is for the most part well known for its exchange collectibles and crafted works. They offer everything from monstrous Buddhist wood carvings to Burmese Lacquer boxes to Thai Knick-skills. The town of Hang Dong has fabricated its fortune on the creation and offer of furniture, woodcarving, collectibles, and painstaking work. Hang Dong's furniture expressway 'Th Thakhilek' runs east towards Ban Tawai.
Koh Kret is a little fake island in Chao Phraya River that misleads the north of Bangkok in Thailand. The island has an old-world appeal and gives a higher perspective of its initial pioneers, advancement, and culture. Earthenware is another social legacy that Koh Kret invests heavily in. For strict touring, Wat Poramai Yikawat is a decent choice. It is a Buddhist sanctuary with a leaning-back Buddha and an inclining stupa. Koh Kret has conveyed sent its culinary inheritance by getting ready conventional dishes that were ready for the illustrious court.
Koh Phra Thong is otherwise called The Golden Buddha Islands since there's a fascinating nearby story behind that. Koh Pling Yai and Koh Pling Noi are two little tropical islands in Golden Buddha Bay. The Pling islands are differentiated by a coral-lined channel that fills in as a permanent spot for assorted marine life. The actual islands highlight rich tropical vegetation. Every last one of them has an inland-confronting ocean side, shielded from the Andaman Sea.
Koh Rok and the few different islands that structure the Mu Ko Lanta are essential for the Mu Koh Lanta National Park which was laid out in 1990 in Thailand. The recreation area involves the southern piece of the region of Krabi. With positively no degree for pubbing, shopping, and diversion, the island draws in less of the group that needs to party hard. For swimming, Koh Rok is frequently contrasted and Koh Phi which is very packed during the traveler season. Along these lines, Koh Rock is one of only a handful of exceptional spots in Asia where one can discover some measure of isolation.
The Golden Triangle in Thailand is that piece of the regular landscape which islands arranged in the far northern locale of Thailand, in the middle of the boundaries of Thailand, Myanmar, and Laos. The body of land is three-sided in a shape and is exactly situated at the conversion of River Mekong and River Ruak. This side of the Golden Triangle is especially popular for picturesque environmental factors that rice paddy fields, ancestral towns, the intersection ideal for riverboat rides, and otherworldly mountains behind the scenes.
Ko Poda is for the most part renowned for patches of plant life alongside white sand seashores and unblemished purplish blue waters. This island objective is remembered for the Poda Group of Islands which comprises three additional islands, particularly, the Ko Kai, Ko Thap, and the Ko Mo island. One side of Ko Poda is frequently clamoring with exercises while the other is tranquil and less swarmed. The shores have shallow waters that help a decent field of coral reefs and establish a climate ideal for bright colorful fishes to flourish.
Mae Hong Son is an impeccably disconnected town and the gloriousness of the town makes it an ideal objective for those looking for a calm times. Situated in the northwest Thesaban Mueang region of Thailand, Mae Hong Son is a town and the capital of the Mae Hong Son area. The town covers the Tambon Chong Kham of the Muang Mae Hong Son region.
The city of Samut Prakan is found exceptionally near the capital city of Bangkok, at the intersection of The Gulf of Thailand and the Phraya River. Samut in Sanskrit signifies 'Sea or Sea' and Prakarn in Sanskrit signifies 'Port'. Situated toward the finish of the Chao Phraya River, it is in some cases called 'Pak Nam' which signifies 'The Mouth of the River' in Thai. This town exits from the Ayutthaya time frame and comprises numerous social and chronicled destinations. Over the long haul, it has soaked up the cutting edge culture of Thailand and is currently a clamoring city also. Towards the western piece of the waterway, the land in Samut Prakan is fruitful and thus, rice and shrimp are developed here.
Lampang, otherwise called Nakhon Lampang, is the capital of Lampang Province and Lampang District, in Northern Thailand. Known as an exchange and transportation focus, Lampang is the third-biggest city in Northern Thailand. Lampang is situated in the valley of Wang River, which is lined by Phi Pan Nam Range and Khun Tan Range on the east and west separately. The city is known for its riverside enchanting, old Buddhist sanctuaries, and laid-back climate which has generally drawn in travelers to Lampang. The city is known by many names like 'The City of Roosters' or 'Pony Carriage City,' and it additionally holds chronicled significance.
Bangkok (02Nights) Pattaya (02Nights)
Thailand Honeymoon Packages
Phuket (2 Nights), Krabi (2 Nights)
Thailand Deluxe Tour Package
Phuket (2 Nights), Krabi (2 Nights) Bangkok (2 Nights) Pattaya (2 Nights)
Thailand Tour Package from Kolkata
Bangkok (2 Nights), Phuket (2 Nights)
Bangkok Tour Package from Kolkata
Bangkok (2 Nights), Krabi (2 Nights)
Bangkok (2 Nights), Koh Samui (2 Nights)
| Packages | Price | Duration | Night Stay | |
| --- | --- | --- | --- | --- |
| | | | Bangkok (02Nights) Pattaya (02Nights) | |
| Thailand Honeymoon Packages | | | Phuket (2 Nights) , Krabi (2 Nights) | |
| Thailand Deluxe Tour Package | | | Phuket (2 Nights), Krabi (2 Nights), Bangkok (2 Nights), Pattaya (2 Nights) | |
| | | | | |
| Thailand Tour Package from Kolkata | | | Bangkok (2 Nights), Phuket (2 Nights) | |
| Bangkok Tour Package from Kolkata | | | Bangkok (2 Nights), Krabi (2 Nights), | |
| | | | Bangkok (2 Nights), Koh Samui (2 Nights) | |
TENTATIVE  FOOD DETAILS OF AJODHYA PAHAR PACKAGE TOUR: [Guest need to be paid direct basis]
| DAY | BREAKFAST | LUNCH | DINNER |
| --- | --- | --- | --- |
| | | Rice, Aloo Bhaji, Dal, Fish curry, Chatni, Papad | Rice, Aloo Bhaji, Dal, Fish curry, Chatni, Papad |
| | Puri, Sabji, Tea / Coffee | Rice, Chips, Dal, Fish portion, Chatni, Papad | Rice / Roti, Dal, Mix Veg /Similar, Chicken Masala |
| | Bread, Omelet, Tea / Coffee | | |
Amazing Facts of Thailand Tour & Travel Package
10 Most Amazing Facts of Thailand 
Thailand is the only country in South-East Asia that has never been colonized under European power
There are 1,430 islands in Thailand, 35,000 temples and nearly 67 million people comprise Thailand's population.
Every year there is a festival dedicated entirely to monkeys in Thailand
Home to an exorbitantly priced delicacy made from saliva
Paying respect to the royal family is a very serious matter.
Thailand is home to a fish that can walk on land
Thailand is the world's number one orchid exporter
Thailand has the world's longest-reigning monarch in the world
It is considered disrespectful to touch anyone on their head even a child
Thailand is also home to the smallest mammal, biggest fish, and the largest living lizard on earth.
Must Maintain In Tour
Carry your belongings, like Passport Copy & Foreign Currency with you all the time
After check-in – original passport you can keep in the locker of the Hotel room or keep inside your luggage under lock & key or you can carry it with you (but on your own responsibility)
Maintain the transfers pick times, if you missed out no refund/reimbursement is possible, you need to reach the Tour Stop / Destination on your own and need to report to the local operation representative to confirm the return pick-up
On arrival, you will get a packet with all the original vouchers & entry tickets for your tour (maybe in ticket form / in voucher format – need to redeem at the counter). Please check all very carefully, if not anything missed out. If so, please report it immediately.
In-Room, if you use any product from min freeze, all will be chargeable, and need to pay to the hotel directly.
At the time of check out if the hotel charges for any damage that needs to settle across. In some peak season, some of the hotels charge a security deposit for this reason, that you need to pay, but rest assured the same will be refunded at the time of Check out without delay if there is no harm.
Travel Tips:
For convenience make advance reservations of hotels, transport, and local sightseeing of the city and journey on Luxury Trains.
Carrying an authorized map of the State and City to which you are traveling.
Carry woolen clothes in winter and walking shoes for all seasons.
Carrying all essential medicines as advised by your doctor.
Travel insurance can protect you from any unseen hazards.
Avoid taking the services of unknown and unauthorized guides/touts.
Avoid heavy baggage and prefer to use lightweight bags with wheels to avoid any inconvenience.
Inform your allergies and food habits in the hotel or restaurant before you order meals or beverages.
Avoid carrying expensive items like jewelry, gold, and valuables of high worth.
Make purchases from authorized shops and take proper vouchers of purchases made with telephone numbers and identification of salesmen or owners of the shop.
Carrying safe drinking water and dry eatables while traveling.
For emergency please contact our 24 X 07 Customer Support Number -8585-86-5050
Always carry a photocopy of your travel documents i.e. Passport, Visa, or Travel Pass, and inform the police immediately of the loss of any of such documents.
Give a proper wake-up call at hotel reception as and when you have to catch the early morning or late night connecting Bus or Train.
Avoid getting extra familiar with hotel staff or any other guests during your stay and in case of any abnormal or indecent behavior, report to Hotel Manager or THPL Customer Support Mobile number
Avoid booking tickets or hotel bookings through unauthorized agents.
In the event of cancellation of tour/travel services due to any avoidable/unavoidable reason/s, we must be notified of the same in writing. Cancellation charges will be effective from the date we receive advice in writing, and cancellation charges would be as follows:
60 days before arrival: 10% of the Tour/service cost
45 days before arrival: 20% of the Tour/service cost
15 days before arrival: 25% of the Tour/service cost
10 days before arrival: 50% of the Tour/service cost
07 days before arrival: Non Refundable
NOTE: In the case of Special Trains Journeys and peak season hotel bookings a separate cancellation policy is applicable (which can be advised as and when required).
SOME CANCELLATION AND REFUND POLICIES ARE OUT OF OUR TENDER:
Refund for hotel payment will follow the hotel's cancellation policy
Train tickets cancellations will follow the Railway's policy
Flight tickets cancellations will follow the airline's company policy
In case you cancel the trip after commencement, refund would be restricted to a limited amount only which too would depend on the amount that we would be able to recover from the hoteliers/ contractors we patronize. For unused hotel accommodation, chartered transportation & missed meals, etc. we do not bear any responsibility to refund.
OUR LIABILITIES & LIMITATIONS:
Please note that after the finalization of the Tour/ service Cost, if there are any Hike in entrance fees of monuments/museums, Taxes, fuel cost, or guide charges – the same would be charged as extra.
As per the Government directive, you are requested to produce your photo identity document such as Driving License/Voter ID Card/Passport/Ration Card at the point of check-in at the hotel. We appreciate your cooperation.
In case of the non-availability of requested hotels/hotels, we will provide accommodation in a similar category of hotel/hotels.
If there is any unavoidable incident occur during the tour, Travotic will not be labile for any responsibility
There will be no refund for any No Show / Unutilized services.
The itinerary may be modifying based on various factors like maintenance of monuments/museums/major like spots conventions, religious festivals, etc.
Itinerary timings on the tour are approximate and may be subject to change.
Transfers and sightseeing on a SIC basis mean transport through a comfortable coach/bus/van depending on the total number of passengers traveling with you on that same tour. Please note that Travotic Holidays will be putting together all the passengers arriving around the same time and dropping them at their respective hotels. You may talk to our holiday experts about private transfers/ transport facilities, which will be made available at an additional cost.
The customer needs to avail of the SIC from the scheduled pick-up point at the scheduled time. Travotic Holidays are not responsible if the pick-up is missed due to the customer's delay.
All personal extras such as laundry, room service, alcohol, minibar, telephone bills, pre-paid or post-paid SIM cards, etc. will be on a direct payment basis by the traveler to the service provider & Travotic Holidays will not be liable for the same at any point of time.
For all the services contracted, a 25% advance payment should be made to hold the booking, on a confirmed basis & for flight ticket booking need full actual fare. The balance amounts need to be paid 10days before the commencement of the services. Management personnel holds the right to decide upon the amount to be paid as advance payment, based on the nature of the service & the time left for the commencement of the service.
Apart from the above in some cases like Special Train Journeys, hotels, or resorts bookings during the peak season (like X-Mas, New Year, Puja, Diwali), a 50% advance payment should be made to hold the booking and 20days before full payment is required to be paid.
Note: Above mentioned payment policy may change during peak season.
Bank Details

Travotic Hospitality Pvt. Ltd.

81A, Ground Floor, Sikdar Bagan Street, Hati Bagan, Kolkata, West Bengal 700004
Bank Details

Travotic Hospitality Pvt. Ltd.

Ground Floor, Mukti Chambers, 4, Clive Row, B.B.D. Bagh, Kolkata, West Bengal 700001
Frequently Asked Questions
How to book a tour on the site?
Visit the website and enter the activity you are looking for in the search bar. After choosing the activity that you plan to take up you will drop your details with contact no, email Id, etc at inquiry form or you can drop a mail to enquiry@travoticholidays.com.
PAYMENT REFUND & CANCELLATION
What are the cancellation policies at TRAVOTIC?
We request you to check the cancellation policy on tour package page on our website. To proceed with cancellations you may go ahead and drop a mail to ...... with your ref ID...
HOW I MAKE PAYMENT AFTER CONFIRM A PACKAGE?
Travotic Holidays cater to its clients, one of finest travel affairs that you can find in Kolkata. Our clients are offered extremely well organized and properly executed tours along with the most competitive price. We are pledged upon providing our travelers with an incredible experience each and every time and we do it by following these core values.
Please share your details and our Travel expert will get in touch  shortly