Rajasthan Tourism Package
Popular Rajasthan Family Tour:- Rajasthan is a matchless destination when it comes to cultural Package tours. Its rich cultural heritage is reflected in its various attractions such as palaces, forts, Havelis, Temples, Luxury Trains, Heritage accommodation, and Historic Monuments and Desert. The best places to visit Rajasthan are Jaipur, Bikaner, Udaipur, Jaisalmer, Jodhpur, Mount Abu, and other offbeat places. Avail of best discounts on Rajasthan family tour packages, Rajasthan Family vacation tours, and Rajasthan weekend tour packages 2021 by booking with us.
The arts and crafts of Rajasthan depict the outstanding colorful lives of its residents. Through our Rajasthan Luxury packages, Tourists can purchase and take those along as a memory and souvenir of Rajasthan. Your experience will be enhanced further by camel safaris, desert safaris, and add more charm to the cultural journey in this royal land by exploring traditional villages.  Rajasthan is also famous for its Honeymoon trip.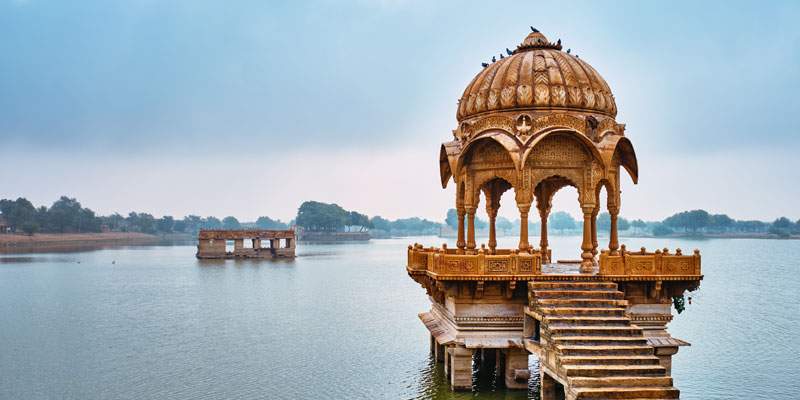 We encourage you to make the most fascinating memories with us and relish our legacy to travel, explore, and celebrate life. We arrange Rajasthan Summer Tour packages.  Don't miss our various deals for Rajasthan Family vacations and get discounted offers on a family vacation for Rajasthan Tours and Travel packages. We also offer customized Rajasthan couple trips for our regular guests. 
Travotic Holidays the best Rajasthan tour operators from Kolkata provide a wide range of hotels, resorts and villas, and some world-class activities. Travotic knows exactly what our customers want and therefore we cater to our customer needs accordingly. All the places that you will visit in our Kolkata to Rajasthan couple tour package are tried and tested. Check out our Rajasthan family tour Packages from different Indian destinations, such as Rajasthan tour packages from Ahmedabad, Rajasthan family tour packages from Mumbai, Rajasthan tour packages from Delhi, Rajasthan family tour package from Rajasthan, Rajasthan tour packages from Bangalore, and many more other destinations.
Suggested Itinerary of Rajasthan Tourism Package
Day 01: ARRIVAL TRANSFER TO JAIPUR
Pick up from Jaipur Rly Stn. / Airport. Transfer to hotel and check-in. Afternoon tour of Jaipur. Jaipur - the capital of Rajasthan was given a color coat of pink a century ago in honor of a visiting Prince and ever since it has retained this color. Built by Maharaja Jai Singh, the notable astronomer, this city is 260 years old. Visit Sisodiya Rani Temple, Laxmi Narayan Temple. Also visit Laxminarayan Temple (Birla Temple) and photo stop at Hawa Mahal. Evening free and optional visit to Chokhi Dhani resort (Dinner Chargeable Extra on own)- built-in ethnical Rajasthan style and especially in the evening they organize a lot of activities like camel ride, Puppet show, Snake charmer and handloom cloths, etc. along with specialized Rajasthani /continental Dinner as well. Overnight Jaipur.
Day 02: JAIPUR LOCAl SIGHTSEEING
Morning visit Amber Fort with an Elephant ride (at an extra cost subject to availability) to the main entrance of the fort. Amber Fort was the ancient capital of the State. After a photo stop at Jal Mahal, Visit Maharaja's City Palace, the Observatory Visit the Sheesh Mahal or the Hall of Victory glittering with mirrors. Evening free for shopping on own. Return to the hotel for the overnight stay.
Day 03: JAIPUR TO BIKANER LOCAL SIGHTSEEING
Morning check-out & drive to Bikaner. On arrival check-in at the hotel. Proceed for a sightseeing tour of Bikaner. Rao Bikaji, visit the  Junagarh  Fort, constructed between 1588 and 1593 by Raja Jai Singh, a general in the Moghul Emperor Akbar's army. Junagarh Fort includes Anup Mahal, Gaj Temple, Sheesh Mahal, Prachin Museum, and Lalgarh Palace. The city is also called the "Camel Country". Visit the camel-breeding farm - the only one in Asia (Asia's biggest camel breeding farm). Also, visit the Karni Mata Temple.
Day 04: BIKANER TO JAISALMER
BIKANER - Founded in 1488 by a  Rathore  Prince,  Rao Bikaji, a descendant of the founder of Jodhpur,  Rao Jodha Ji,  Bikaner has a glorious past to tell. Situated in the north of Rajasthan, the walled city of Bikaner is famous for its sky-touching forts, camel safaris, citadels, and well-known camel festival. Overnight at Bikaner hotel
Distance between Jaipur to Bikaner is 345 km / 7 Hours by road
Morning check-out and proceed to Jaisalmer, the golden city of Rajasthan. In the late afternoon check-in at the hotel. Proceed to Sam for Camel Ride. Return back to the hotel. Stay Overnight at Jaisalmer.
Note: - Tents are closed from Mar to Sep. Only a Camel ride is available at an additional cost payable directly.
Distance between Bikaner to Jaisalmer is 350 km / 7 Hours by road
Day 05: JAISALMER LOCAL SIGHTSEEING
After breakfast check out from Tent (if stay took). Proceed for a sightseeing tour of The Golden City - Jaisalmer. Visit the 12th-century magnificent fort at Jaisalmer (This is the highlight of the tour-Sonar Kella). Also visit the beautifully and magnificently carved Havelis of Salim Singh ki Haveli, Nathmal Ki Haveli, and Patwon ki Haveli (Buildings dating from the 12th to the 15th century) and Gadisar Lake, followed by a visit to the Barabagh Hill (Bada Bagh). Return back to the hotel. Overnight stay.
Day 06: JAISALMER TO JODHPUR LOCAL SIGHTSEEING
After Breakfast & check out from the hotel & drive to Jodhpur. Arrive in Jodhpur and check in at the hotel. In the afternoon proceed for a local city sightseeing tour. Jodhpur, a stronghold of the fierce Rathore clan, was founded in 1459 by Prince Jodha. Visit the Mehrangarh Fort, situated on a low sandstone hill. Within the fort, visit Moti Mahal and Phool Mahal. Also visit Jaswant Thada, an imposing marble cenotaph, built in memory of Maharaja Jaswant Singh II around 1899, and Umaid Public gardens. Return back to the hotel and overnight stay.
Distance between Jaisalmer to Jodhpur is 350 km / 7 Hours by road
DAY 07: JODHPUR TO MOUNT ABU + LOCAL SIGHTSEEING
After Breakfast & check out from the hotel. Depart for Mt Abu. Arrive at Mt Abu and transfer to the hotel. Guru Shikhar, Dilwara Jain Temple, Sunset Point, Nakki Lake, Brahma Kumari, Achalgarh Fort, Adhar Devi Temple. Overnight stay at hotel. Distance between Jodhpur to Mount Abu is 270 km / 6 Hours by road
Day 08: MOUNT ABU TRANSFER TO UDAIPUR
After Breakfast & check out from the hotel. Depart for Udaipur. Arrive at Udaipur and transfer to the hotel. Udaipur, 'the city of lakes' is admired for its fairy-tale palaces, lakes, temples, and gardens among many more. Evening at leisure. Overnight stay at Udaipur.
Distance between Mount Abu to Udaipur is 200 km / 4 Hours by road
Day 09: UDAIPUR LOCAL SIGHTSEEING
Breakfast at the hotel. Morning city sightseeing tour. Built-in 1559 A.D. by Maharaja Udai Singh, the city has been described as the most romantic spot on the continent of India by Col. James Todd. The places of interest include City Palace which has several carved balconies, arches, and decorated pillars, Zenana Mahal, Fateh Prakash, Durbar Hall, and Shambhu Niwas. Also visit Jagdish temple, Sahelion-ki-Bari (queen's resort for the friends). Evening Motor launch cruise (Cruise ride not included) on the placid waters of Lake Pichola and enjoy the scenic view of Sunset. Overnight stay.
Day 10: UDAIPUR TO PUSHKAR VIA AJMER SHARIF
Morning drive to Pushkar and en-route after stopping at Ajmer and Dargah reach Pushkar and check into your hotel. Pushkar is best known for its Brahma Temple built in the 14th century standing on a high platform near Pushkar Lake. This is the only temple in the world where Lord Brahma - Creator of the Universe, is worshipped. While Pushkar is a city of pilgrimage with over 500 temples and ghats, it is also famous for its annual Camel Fair, held during October/November. Visit temples and stay overnight at the hotel.
Distance between Udaipur to Ajmer to Pushkar is 300 km / 7 Hours by road
DAY 11: PUSHKAR TO DELHI DROP
Early morning drive to Delhi. Drop at Delhi Airport / Rly Stn for onward Journey.
Distance between Pushkar to Delhi is 400 km / 8 Hours by road
Price Of Rajasthan Tourism Package
| Total No. Of Guest Traveling Together | Cost Per Person |
| --- | --- |
| Min. 06PAX Travelling Together | INR 24,019/- + 5% GST Per Person |
| Min. 04PAX Travelling Together | INR 22,369/- + 5% GST Per Person |
| Min. 02PAX Travelling Together | INR 34,179/- + 5% GST Per Person |
Accommodation For Rajasthan Tourism Package
Location

Hotel Names

Sun City Plaza / Purples Beds by VITS/ Similar

Hotel Bharat Palace / Hotel Hari Bhawan Palace / Similar

Hotel Marina Mahal / Mystic Jaisalmer / Similar

Moustache Jodhpur / Zone by The Park / Similar

Hotel Karnavati / Hotel Mamta Palace/ Similar

Ambay Villa / Indira Niwas / Similar

Hotel Blue Lotus / Pushkar Regency Resort / Similar
Inclusion-Exclusion Of Rajasthan Tourism Package
Inclusion Of Rajasthan Tour Packages
Accommodation as mentioned above on twin sharing
Daily Breakfast (except on arrival day)
All Hotel Taxes & Luxury Taxes
AC Transport
All Sightseen as per the mentioned Itinerary
Pick up  Jodhpur & drop Jaipur
Toll, Parking, Driver Allowance & All Taxes
Exclusion Of Rajasthan Tour Packages
Air Fare / Train fare
Personal expenses
Jungle Safari Cost (Canter: 1150 per person &  Jeep: 1500/- Per Person)
Extra Meal
Monument Fees
Any forest Safari cost
Anything is Not Mentioned In this Package Includes
Porterage at hotels and airports, tips, insurance, laundry, liquors, wine, Extra room services, Phone calls
Any cost arising due to natural calamities like landslides, roadblocks, etc.
Any increase in taxes or fuel leading to an increase in surface transportation
Place Of Interest Of Rajasthan Tourism Package
Place of Interest in Rajasthan:
Rajasthan's beautiful Pink City Jaipur, was the stronghold of a clan of rulers whose three hill forts and series of palaces in the city are important attractions. Known as the Pink City because of the color of the stone used exclusively in the walled city, Jaipur's bazaars sell embroidered leather shoes, blue pottery, tie, and dye scarves, and other exotic wares. Western Rajasthan itself forms a convenient circuit, in the heart of the Thar Desert which has shaped its history, lifestyles, and architecture.
JAIPUR ATTRACTIONS:
Nahargarh Fort
Amber Fort
Jaigarh Fort
Jal Mahal
Bikaner's history dates back to 1488 A.D. when a Rathore Prince, Rao Bikaji- a descendent of the founder of Jodhpur (1459 A.D.), Rao Jodhaji, established his kingdom here. Rao Jodhaji had five sons but Rao Bikaji was the most enterprising of them. Bikaji chose a barren wilderness called Jangladesh and transformed it into an impressive city, called Bikaner after the founder's name.
BIKANER ATTRACTIONS:
Junagarh Fort
Lalgarh Palace
National Research Centre on Came
Laxminath Temple
Ganga Singh Museum
Sadul Singh Museum
Jain Temple
The city has an interesting legend associated with it, according to which, Lord Krishna-the head of the Yadav Clan, foretold Arjuna that a remote descendent of the Yadav Clan would build his kingdom atop the Trikuta Hill. His prophecy was fulfilled in 1156 A.D. when Rawal Jaisal, a descendent of the Yadav Clan and a Bhatti Rajput, abandoned his fort at Lodurva and founded a new capital - Jaisalmer, perched on the Trikuta Hill.
JAISALMER ATTRACTIONS: 
Jhalawar Fort (Garh Palace)
Government Museum
Bhawani Natya Shala
Gagron Fort
Buddhist Caves and Stupas
Rain Basera (6KM)
Jhalarapatan (6KM)
Chandrabhaga Temples(7KM)
Buddhist Caves and stupas
Dag (100Km)
Kakuni (65Km)
Bhimsagar (24 km)
Atishey Jain Temple, Chandkheri (35 km)
Dalhanpur (54)
Fort of Gangadhar (120 km)
Set at the edge of the Thar Desert, the imperial city of Jodhpur echoes with tales of antiquity in the emptiness of the desert. Once the capital of the Marwar state, it was founded in 1459 A.D. by Rao Jodha-chief of the Rathore clan of Rajputs who claimed to be descendants of Rama - the epic hero of the Ramayana. The massive 15th century A.D. Mehrangarh Fort looms on the top of a rocky hill, soaring 125 Mts. Above the plains. The city is encompassed by a high wall -10 km long with 8 gates and innumerable bastions. A major trade center of the 16th century A.D. the fortress-city of Jodhpur is now the second-largest city of Rajasthan.
JODHPUR ATTRACTIONS: 
Mehrangarh Fort
Jaswant Thada
Umaid Bhawan Palace
Girdikot & Sardar Market
Museum
Balsamand Lakes & Gardens
Mandore
Mahamandir Temple
Kailana Lake
Osian
Luni Fort
The Dhawa
The history of Mount Abu is as diverse as the city itself. It was once a part of the Chauhan kingdom of Rajasthan and served as a summer resort for the Rajput kings of the region. After that, it was leased by the British government from the then Maharaja of Sirohi for use as the headquarter of the resident to Rajputana (another name for Rajasthan).

During the British rule in India, it was the favorite summer destination of the British, who came here to escape the dusty, dry heat of the plains particularly Rajasthan. It also served as a sanatorium for the troops. The small huts and cottages here tell stories of those times even today.

MOUNT ABU ATTRACTIONS:
Gaumukh Temple
Delwara Jain Temple
Adhar Devi Temple
Museum & Art Gallery
Viewpoints
Shri Raghunathji Temple
Gardens & Parks
Trevor's Tank
Guru Shikhar
Achalgarh
Mount Abu Tourist Palace
Gaumukh Temple
Delwara Jain Temple
Adhar Devi Temple
Museum & Art Gallery
Viewpoints
Shri Raghunathji Temple
Gardens & Parks
Trevor's Tank
Guru Shikhar
Achalgarh
Udaipur is the jewel of Mewar kingdom ruled by the Sisodia dynasty for 1200 Years. The foundation of the city has an interesting legend associated with it. According to it, Maharana Udai Singh, the founder, was hunting one day when he met a holy man meditating on a hill overlooking the Lake Pichhola. The hermit blessed the Maharana and advised him to build a palace at this favorable located spot with a fertile valley watered by the stream, a lake, an agreeable altitude, and an amphitheater of low mountains. Maharana followed the advice of the hermit and founded the city in 1559 A.D.
UDAIPUR ATTRACTIONS:
City Palace
Saheliyon Ki Bari
The Suraj Gokhada
Pratap Memorial
Gulab Bagh
Sajjan Garh
Fateh Sagar
Pichola Lake
Jagdish Temple
Bhartiya Lok Kala Museum
Nagda
Haldighati
Kumbhalgarh Fort
Jagat
Jaisamand Lake
Ranakpur
Kankroli
Rajsamand Lake
Ahar
Historically, Pushkar always had great strategic importance and was sacked by Mahmud of Ghazni on one of his periodic forays from Afghanistan. Later it became a favorite residence of the great Moghuls. One of the first contacts between the Moghul and the British occurred in Pushkar when Sir Thomas Roe met with Jahangir here in 1616. The city was subsequently taken by the Scindias and, in 1818, it was handed over to the British, becoming one of the few places in Rajasthan controlled directly by the British rather than being part of a princely state.
PUSHKAR ATTRACTIONS: 
Pushkar Ghat
Pushkar Temples
Sun City Plaza / Purples Beds by VITS/ Similar

Hotel Bharat Palace / Hotel Hari Bhawan Palace / Similar

Hotel Marina Mahal / Mystic Jaisalmer / Similar

Moustache Jodhpur / Zone by The Park / Similar

Hotel Karnavati / Hotel Mamta Palace/ Similar

Ambay Villa / Indira Niwas / Similar

Hotel Blue Lotus / Pushkar Regency Resort / Similar

The Village Heart / Similar
Best Restaurants to Try In Rajasthan: With a tour Rajasthan trip, experience the lip-smacking Rajasthani Cuisine which is influenced by the availability of ingredients in this dry region. The trip to Rajasthan is incomplete without experiencing the delectable dishes of the state. Here is the list of amazing restaurants in Rajasthan that reflect the local flavor.
1135 AD (Jaipur) – The restaurant 1135 AD is located inside the Amber Palace in Jaipur. The special dish of this restaurant is Lal Maas, in which curry is made of mutton in yogurt sauce.
Suvarna Mahal (Jaipur) – Suvarna Mahal is located in the Rambagh Palace hotel in Jaipur. The famous dishes served in the Suvarna Mahal are Jodhpuri gate, Murgh ka Shorba, and Lal mass.
Darikhana (Jodhpur) –Darikhana restaurant is located in the Raas Hotel of Jodhpur;. Most of the ingredients used in the restaurant are taken from the organic garden of Raas hotel. Relish on the plethora of mouth-watering dishes served in Darikhana.
Sunset Pavilion (Jodhpur) – The Sunset Pavilion is nestled in Umaid Bhawan Palace of Jodhpur. Guests are served with mulled wine before they start with their delectable meal. Enjoy the royal treatment in a traditional setting in Sunset Pavilion.
Devi Garh (Udaipur) –Devi Garh is a multi-cuisine restaurant sitting in the backdrop of Aravalli Hills in Udaipur. The place aims to serve a wide range of home-cooked authentic flavors. Expose yourself to a range of delectable chaats along with other scrumptious dishes from Indian cuisine.
Travotic Holidays cater to its clients, one of finest travel affairs that you can find in Kolkata. Our clients are offered extremely well organized and properly executed tours along with the most competitive price. We are pledged upon providing our travelers with an incredible experience each and every time and we do it by following these core values.
Please share your details and our Travel expert will get in touch  shortly