Belun Eco Village Budget Tour Package
GARPANCHKOT ECO TOURISM PACKAGE TOUR FROM KOLKATA | BOOK GARPANCHKOT WITH BARANTI TOUR PACKAGE FROM TRAVOTIC HOLIDAYS | FOR BEST PRICE CALL ☏ +91- 8585 -86 -5050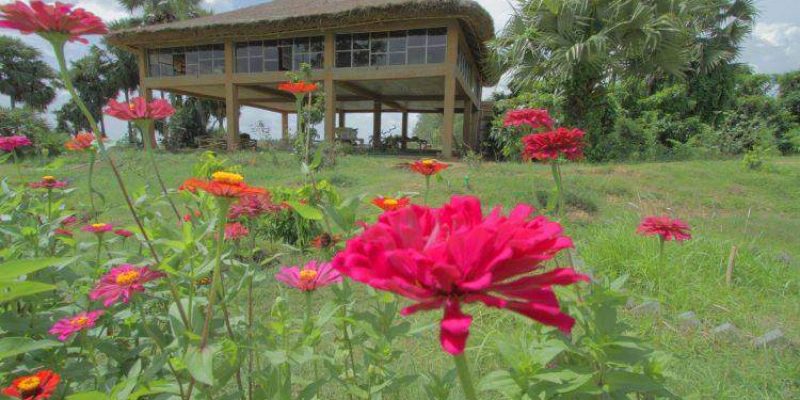 Suggested itinerary of Belun Eco Village budget tour package
DAY 1: ARRIVAL –BELUN ECO VILLAGE RESORT
The journey starts from Kolkata by Road.  On arrival, we will take you to the resort. Enjoy your welcome drink & followed by the delicious lunch. After Lunch, you can take a walk on the lush grasslands, alongside River Shibai and watch migratory and local birds frolicking the whole day. You can take a bullock cart ride to roam around the entire village and pluck some garden fresh vegetables and fruits from the farm and enjoy them. Take Dinner & Overnight stay at Hotel.
DAY 2: FULL DAY AT BELUN ECO RESORT
After a nice breakfast, you can enjoy catch fish from the nearby lake and ask to the Hotel manager host to cook it while you enjoy rafting in Choto Pukur. You can enjoy fresh Date Palm juice (Khejur Rosh) in the early mornings and during your stay, if someone in a nearby village spots a honeycomb then you may get the privilege to enjoy some fresh honey too. You can also get engaged in activities like rescuing wild animals and releasing them, studying the behavior of the wildlife, and boating on River Shibai. Camping is another popular activity done in this place. Take Dinner & overnight stay at Hotel.
DAY 3: CHECKED OUT AND TRANSFER TO KOLKATA
After a nice breakfast, you can enjoy Kalyanpur Ghat (Famous for Dolphin). Around 11.00 AM (approx) checked out from the hotel and start for your return transfer to Kolkata by road.
Tour Ends………..
Price Of Belun Eco Village Budget Tour Package
| Total No of Guest Traveling Together | Cost Per Person |
| --- | --- |
| Min. 06PAX Traveling Together | INR 8500/- + 5% GST Per Person |
Accommodation For Belun Eco Village Budget Tour Package
| Place | Hotel |
| --- | --- |
| Ketugram Ambalgram Road, Katwa, Bardhaman, West Bengal 713140 | BELUUN ECO VILLAGE RESORT |
BELUN ECO VILLAGE RESORT AVAILABLE FACILITIES
Inclusion-Exclusion Of Belun Eco Village Budget Tour Package
INCLUSIONS OF Belun Eco Resort Package
Welcome Drink on arrival
2 Nights accommodation in AC Double Room in Twin/Triple Sharing basis as above mention the hotel
All transfer & Sightseeing by AC D'Zire /Innova /Similar Car
02 breakfast, 02 Lunch & 02 Dinner during tour
Complimentary usage of Carom / Chessboard / Dartboard / Badminton
All Applicable taxes,
 
EXCLUSIONS OF Belun Eco Resort Package
Air fare/train fare.
All meals other than those specified in 'Cost Includes'
Expenses of personal nature
Any other items not mentioned in 'Cost Includes'
Entrance fees.
Soft drink and hard drink of any kind.
 
Places of Interest Of Belun Eco Village Budget Tour Package
Although it seems timid in winters and other times of the year, the Shibai River is not the same in monsoons. When the rains hit, Shibai floods its banks and creates an endless stretch of marshland. After the monsoons, when the water recedes numerous species of birds, mammals and butterflies make this marshland their home. Our Nature Interpretation Center is located on the banks of the Shibai River just in the middle of this wildlife hot spot. So, during the Belun Eco Village Package guests can sit with their binoculars in the center and spot the birds and wild cats & lots of wild animals.  We have also created small forestland on the river bank which supports more than 600 species of local fauna starting from insects, birds to reptiles and mammals.
Literally means "Small Pond" – but this is far from the truth. Choto Pukur is so big that during your Belun Eco Village weekend Tour we arrange "Still Water Rafting"  on it for birding. Choto Pukur and its surrounding wetland are visited by thousands of migratory birds in winters.
This river island on the Ganges is around 20 km from Belun and takes around an hour to reach. Please note, this Nayachar is not the same as the one in Haldia. This a rather small uninhabited island that hosts one of the most diverse populations of local and migratory birds in winter. If you are a birding enthusiast, our guide can take you on a trip to this island. (You can able Boat Ride is available)
Around 18 km from Belun Eco Village Resort, the river the Ganges takes a sharp bend where a large expanse of water still harbors the most endangered species of Shushuk or "Gangetic River Dolphins." This part of Ganges is not fished extensively on a commercial basis and is devoid of large polluting urban habitat, which has resulted in the natural conservation of this species
Attahas Shaktipeeth is one of the main religious places for Hindus. This temple is located in 'Labhpur' of West Bengal, India. The temple is located in the Nirol Gram Panchayat in the Katwa subdivision of the Purba Bardhaman district of West Bengal. It is about 5 km from the Nirol bus stand and beside the Ishani river (locally known as Kandor River). Atta and Hasa coming from the Sanskrit language, meaning is extreme laughter, Attahas Shakti Peeth is also known as Phulara Devi Temple. This temple is a prominent place for the people of the Shaktism (Goddess is worshiped) of the Hindu religion.
BUTTERFLY & BIRD WATCHING
If you are interested you can enjoy guided bird-watching and butterfly-watching tours which are included in our Belun Eco Village Tour Package.
In the event of cancellation of tour/travel services due to any avoidable/unavoidable reason/s, we must be notified of the same in writing. Cancellation charges will be effective from the date we receive advice in writing, and cancellation charges would be as follows:
60 days before arrival: 10% of the Tour/service cost
45 days before arrival: 20% of the Tour/service cost
15 days before arrival: 25% of the Tour/service cost
10 days before arrival: 50% of the Tour/service cost
07 days before arrival: Non Refundable
NOTE: In the case of Special Trains Journeys and peak season hotel bookings a separate cancellation policy is applicable (which can be advised as and when required).
SOME CANCELLATION AND REFUND POLICIES ARE OUT OF OUR TENDER:
Refund for hotel payment will follow the hotel's cancellation policy
Train tickets cancellations will follow the Railway's policy
Flight tickets cancellations will follow the airline's company policy
In case you cancel the trip after commencement, refund would be restricted to a limited amount only which too would depend on the amount that we would be able to recover from the hoteliers/ contractors we patronize. For unused hotel accommodation, chartered transportation & missed meals, etc. we do not bear any responsibility to refund.
OUR LIABILITIES & LIMITATIONS:
Please note that after the finalization of the Tour/ service Cost, if there are any Hike in entrance fees of monuments/museums, Taxes, fuel cost, or guide charges – the same would be charged as extra.
As per the Government directive, you are requested to produce your photo identity document such as Driving License/Voter ID Card/Passport/Ration Card at the point of check-in at the hotel. We appreciate your cooperation.
In case of the non-availability of requested hotels/hotels, we will provide accommodation in a similar category of hotel/hotels.
If there is any unavoidable incident occur during the tour, Travotic will not be labile for any responsibility
There will be no refund for any No Show / Unutilized services.
The itinerary may be modifying based on various factors like maintenance of monuments/museums/major like spots conventions, religious festivals, etc.
Itinerary timings on the tour are approximate and may be subject to change.
Transfers and sightseeing on a SIC basis mean transport through a comfortable coach/bus/van depending on the total number of passengers traveling with you on that same tour. Please note that Travotic Holidays will be putting together all the passengers arriving around the same time and dropping them at their respective hotels. You may talk to our holiday experts about private transfers/ transport facilities, which will be made available at an additional cost.
The customer needs to avail of the SIC from the scheduled pick-up point at the scheduled time. Travotic Holidays are not responsible if the pick-up is missed due to the customer's delay.
All personal extras such as laundry, room service, alcohol, minibar, telephone bills, pre-paid or post-paid SIM cards, etc. will be on a direct payment basis by the traveler to the service provider & Travotic Holidays will not be liable for the same at any point of time.
For all the services contracted, a 25% advance payment should be made to hold the booking, on a confirmed basis & for flight ticket booking need full actual fare. The balance amounts need to be paid 10days before the commencement of the services. Management personnel holds the right to decide upon the amount to be paid as advance payment, based on the nature of the service & the time left for the commencement of the service.
Apart from the above in some cases like Special Train Journeys, hotels, or resorts bookings during the peak season (like X-Mas, New Year, Puja, Diwali), a 50% advance payment should be made to hold the booking and 20days before full payment is required to be paid.
Note: Above mentioned payment policy may change during peak season.
Bank Details

Travotic Hospitality Pvt. Ltd.

81A, Ground Floor, Sikdar Bagan Street, Hati Bagan, Kolkata, West Bengal 700004
Bank Details

Travotic Hospitality Pvt. Ltd.

Ground Floor, Mukti Chambers, 4, Clive Row, B.B.D. Bagh, Kolkata, West Bengal 700001
Frequently Asked Questions
How to book a tour on the site?
Visit the homepage of the website and enter the activity you are looking for in the search bar. After choosing the activity that you plan to take up you will...
How to book a tour on the site?
Visit the website and enter the activity you are looking for in the search bar. After choosing the activity that you plan to take up you will drop your details with contact no, email Id, etc at inquiry form or you can drop a mail to [email protected].
PAYMENT REFUND & CANCELLATION
What are the cancellation policies at TRAVOTIC?
We request you to check the cancellation policy on tour package page on our website. To proceed with cancellations you may go ahead and drop a mail to ...... with your ref ID...
HOW TO BOOK A PACKAGE TOUR TOUR ON THE SITE?
Visit the homepage of the website and enter the activity you are looking for in the search bar. After choosing the activity that you plan to take up you will...
HOW I MAKE PAYMENT AFTER CONFIRM A PACKAGE?
Travotic Holidays cater to its clients, one of finest travel affairs that you can find in Kolkata. Our clients are offered extremely well organized and properly executed tours along with the most competitive price. We are pledged upon providing our travelers with an incredible experience each and every time and we do it by following these core values.
Please share your details and our Travel expert will get in touch  shortly